Back to Blogs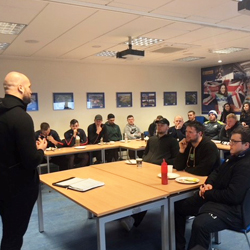 Investigo coaches the Bath University Rugby teams on how to win at their careers.
George Robson - ex-professional rugby player and John Griffin - Early Professionals Manager at IBM donated their time to speak with the University of Bath Rugby teams on Tuesday 6th February. Investigo, proud sponsors of Team Bath Netball Superleague and Super Rugby, organized this insight session to highlight how the skills learnt on the sports pitch can be transferable in the business world.
With twenty-one years' experience working at IBM, John provided the players with an overview of the professional qualities FTSE 250 companies are looking for when recruiting for their annual graduate intake. John gave an insight "behind the walls of assessment centers" and discussed which competencies developed on the sports pitch are highly desirable to employers. Typical soft skills that assessors look for in these assessment sessions are passion, team work, trust and responsibility, drive and leadership, all of which can be developed from playing team sports.
Assessment centers generally test individual's ability to think critically and logically and their ability to problem solve and discuss scenarios in teams. The S-T-A-R approach - situation, task, action, result is a typical job behavioral interview technique used by assessors. It is important to prepare for interviews and employ these transferrable skills when starting your job search.
George, shared his personal experience about making the transition from a professional rugby player to developing a career in the corporate world. Currently the Director - Operations and New Business Development at MusclePharm Corp, George's talk focused on how the skills he developed playing Rugby were applicable in his career. "What I found so far in my career, with zero experience, is that I was tapping into what I learnt during my rugby days…in sport, you set process and performance goals and the same concept applies in your corporate career."
It is important to start maintaining good relationships in your own immediate network at the early stages of university or your first profession, as you never know who may be a potential prospective employer or when you may need to tap into your network. George discussed how first impressions count – your body language, attire, punctuality and consideration of people's culture are all important when leaving good impressions in interviews.
Investigo is planning on hosting regular events at Bath University throughout the year to potential future leaders. The Investigo Academy is an intensive training program which teaches new and inexperienced recruits the skills required to be a successful recruitment consultant in a supportive and competitive environment. If you are interested in developing your expertise and the idea of working in recruitment excites you, then please get in touch with Amy Walshe on amy.walshe@investigo.co.uk or + 44 (0) 203 862 2791.