Back to Blogs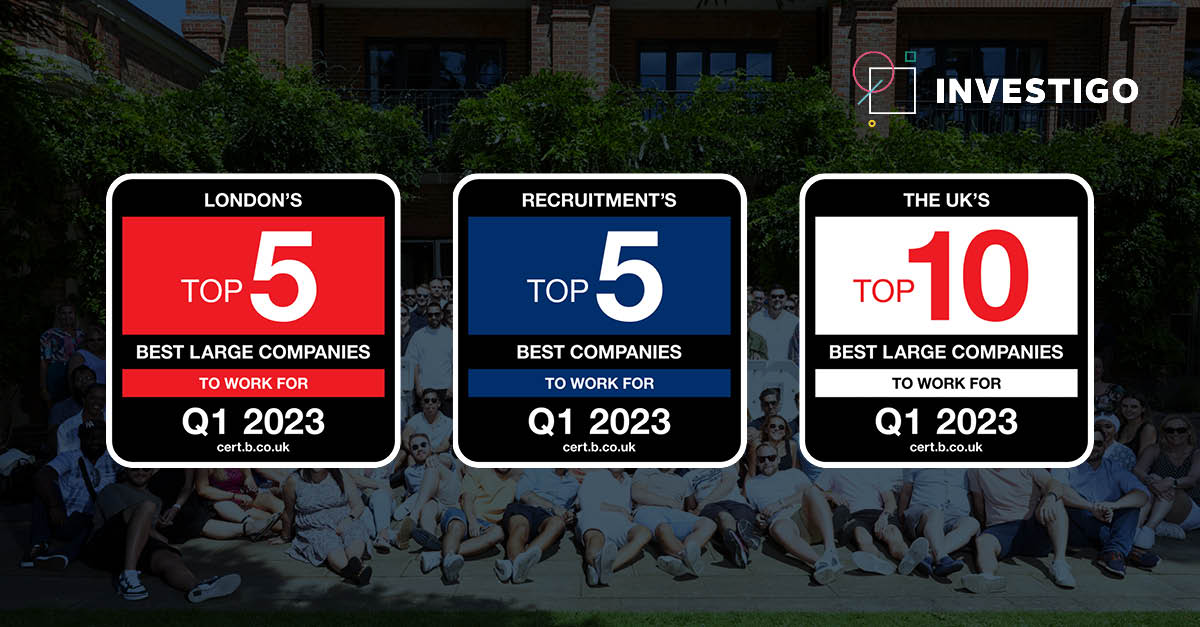 The magic number: 3 Star Investigo makes trio of Best Companies lists
Investigo has been named on three Best Companies league tables for Q1 2023! Best Companies accreditation is recognised across the UK as the standard in workplace engagement, and it shows that an organisation is committed to being a great place to work. We're delighted to have made it into the top 10 of three league tables for the first time, achieving:
​
7th in the UK'S Best Large Companies to Work For

5th in recruitment's Top 5 Best Companies to Work For

5th in London's Top 25 Best Large Companies to Work For
The news caps off an amazing few weeks where we've also retained our Best Companies 3 Star accreditation, which represents the highest standard of workplace engagement, and been named Best Recruitment Company to Work For (Large) at the Recruiter Investing in Talent Awards (RITAs).
It's an incredible honour to be recognised as a leading employer in London, in the UK, and in our industry, and as our Head of Culture Charlie Noble observes, it's one we couldn't achieve without our people: "This is a particularly special achievement as it represents the views of our people and the impact we have all had on shaping the business. Their voice, together with our collective desire and actions to continually improve, has a direct impact on every aspect of life at Investigo and the way in which we support our people. But the hard work doesn't stop here; we're more ambitious than ever and we don't plan to rest even if we can get to number one!"
Leaders in employee engagement, Best Companies assess the level of engagement in an organisation through an annual employee engagement survey. The results allow organisations to assess and monitor their engagement in detail, as well as highlighting areas they need to work on.
Supported by our People and Culture Team, we work incredibly hard to give all our people a working environment where they not only feel trusted and empowered, but also supported. It's what we call unlocking the power of people. We're so proud to have made the top 10 on three Best Companies lists and a massive thank you to every one of our people for making this happen.
For more details on our results, check out our best companies profile here: Best Companies | The Investigo Group - TIG Company Profile
To find out what makes us a special place to work, visit our careers site: Welcome to our career site - Investigo (investigocareers.com)
​