Back to Blogs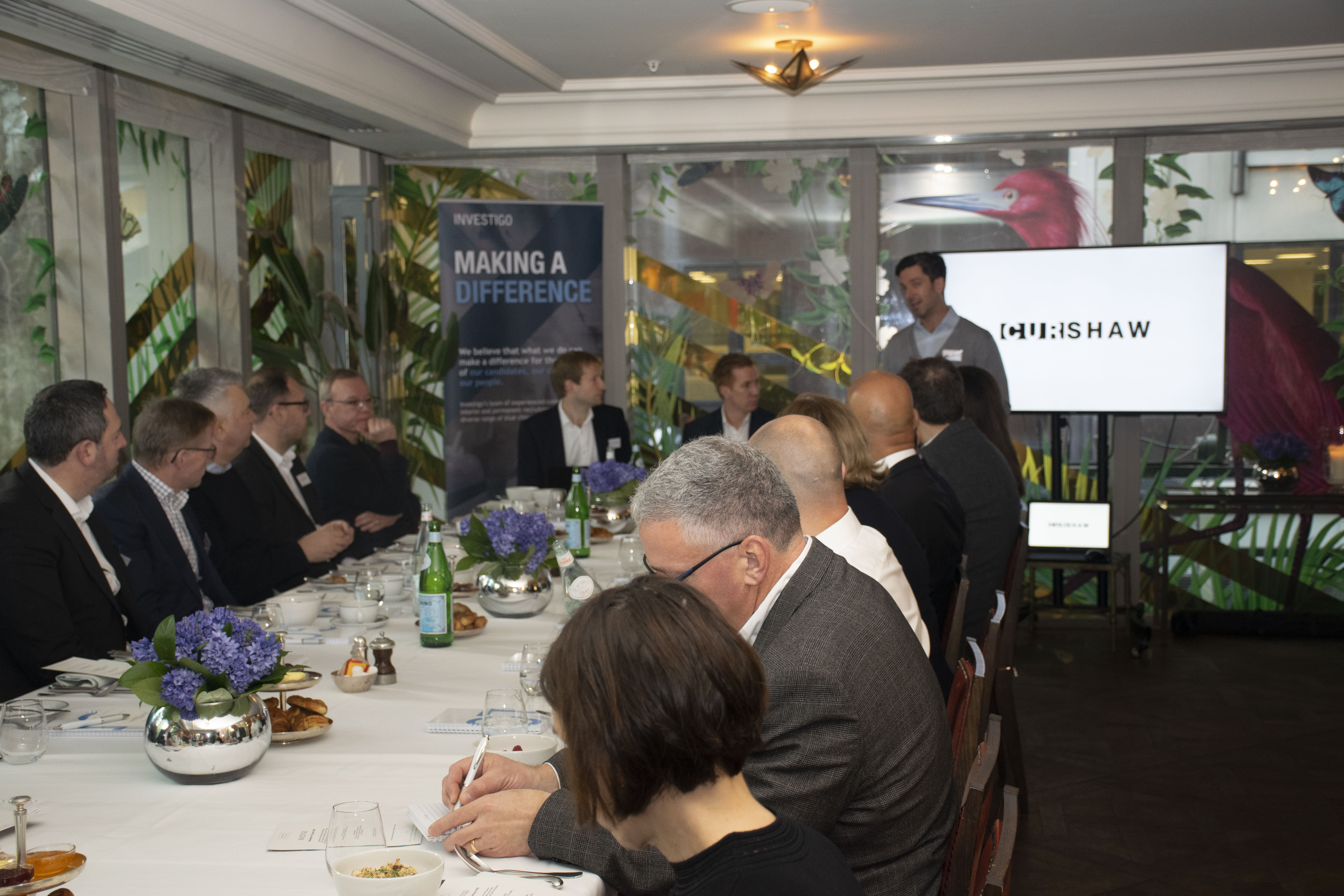 ​The opportunities IR35 can bring within the transformation market
Introduction
On Wednesday 5th February, Investigo hosted a networking breakfast focusing on IR35 at the Ivy City Garden in London. With the IR35 legislation due to come into force on 6th April 2020, private sector organisations will have to rethink their approach to hiring interim service providers. At the same time, contractors will need to look at the way they define, present and deliver their services.
Outlining their respective journeys with IR35, our expert speakers, David Kershaw and Max Curzon-Hope, provided real-life examples and practical advice for how clients and service providers alike can work within the legislation. They also discussed how IR35 has enabled them to establish their business, Curshaw, to focus on delivering outcomes. The breakfast was attended by change and transformation leaders from various professional sectors.
Understanding IR35
New for the private sector, IR35 aims to ensure contractors pay the right amount of tax. It's set to come into force on 6th April 2020. Under IR35, individual contractors who operate like employees – otherwise referred to as "disguised employees" – pay the same tax contributions on their earnings as those in employment, regardless of the structure they work through. IR35 applies where an individual provides their services, through an intermediary, to another person or entity.
The speakers
David Kershaw
David is an experienced procurement delivery specialist who has worked in the public sector for over 10 years. He's vastly experienced in delivering intricate procurements for the public sector in a wide range of complex environments, including digital, data and technology, marketing and communications, transport and the emerging 'Brexit' space.
Max Curzon-Hope
Max is a commercial specialist with 10 years' experience at the heart of government, delivering major complex commercial change and transactions. He is a leading expert on the Private Finance Initiative hand-back/expiry and complex infrastructure and real estate contracts.
Their firm, Curshaw, is a commercial transformation consultancy which helps organisations transform and thrive in complex and uncertain environments.
The journey
"Both service providers and their clients need to invest the time to understand IR35, do it properly, not cutting corners," said David Kershaw, who provides defined specialist procurement services. "It's an opportunity to go in and actually deliver and then leave."
IR35's nothing new, but it seems to have caught up with many organisations in the way an overdue essay catches up with a distracted student. Even for the prepared, the coming weeks will be pretty busy. "Over the next six to seven weeks, we've got 400 contractors waiting for determination," said Derek Mackenzie, Executive Director at Investigo. If a reminder were needed on the urgency of the issue and the timeliness of the discussion, this was certainly it.
To say that the IR35 legislation was greeted with trepidation in the public sector would be something of an understatement. "There was a knee jerk reaction to IR35 and people were concerned," said David. At the time, he'd been working on a transformation project at the heart of government and had actually received IR35 very well. He took the view that this provided more rigour to his contracts and the way he delivered specific services permanent staff could not.
The Summer Budget 2015 document, 'How to make IR35 more effective in protecting the Exchequer,' reignited the subject. "When it was first rolled out," added Max Curzon-Hope, "there was huge uncertainty." Such was the immediate effect on the public sector. Now it's the private sector's turn to ride the wave.
Aiming to provide some clarity for the public sector, HMRC launched its IR35 checker. While companies are using it to determine contractors' status, some clients are nervous when determining the middle ground. The information on the government website offers a starting point, it gives a flavour of the questions, but professional case-by-case advice is still recommended.
Comfort in anonymity
Contracting presents an interesting contradiction – the desire to quickly make an impact offset by the need to stay in the shadows. From that point of view, contractors are in many ways the hero organisations deserve, if not the one they need right now.
As such, contractors should not be part of the organisational hierarchy and structure:
Don't be a line manager.

Don't do anything outside your contract.

Don't get embedded in an organisation.

Control your own workday based around how you will deliver your services.
If you are a genuine service provider then act like one. It's about delivering the contract, not about being part of the organisation.
As an interim chief, your role is to provide strategy and to deliver big projects. That's the role. Not line management. A permanent member of an organisation's board needs to carry that management burden so you're very explicitly focused on the project and not involved in things like management and other employee-related matters.
A world of opportunity
The key to evolution is the ability to adapt: to adjust your way of working according to the changing conditions around you. David Kershaw said: "IR35 gives more opportunities than people think." One of those opportunities comes in the form of substitutions, which can be interesting and fun.
Think about publishing case studies to give the market an insight into what you can do and open up a world of potential new contracts. Demonstrate where you've delivered, and how this has changed something in a client organisation – what difference has your discreet service made?
The future
IR35 is obviously something that needs to be respected, adhered to and worked around, but in many ways it's very much a work in progress with a number of grey areas. It's therefore important that contractors continue to keep the government aware of their concerns. One attendee used the very apt analogy of the New Zealand rugby team: "Play what's in front of you head on." He talked about how he'd challenged government – local MPs, chancellor and even the Prime Minister – with varying degrees of response. While MPs tend to reply very quickly, response-times become somewhat longer the further up the chain you go.
But it's important to keep the dialogue open, to think about how you can influence grey areas that can't be worked around, to explain to legislators that you want to help the nation become more productive. The organisations you work with can advise you on who else to contact for advice.
At the same time, understand and challenge the client's decision on whether you're inside or outside IR35. A small company may have a different position to a large company concerning IR35. If the company uses the HMRC IR35 calculator and there's a particular answer, ask them why. If you're inside no matter what, ask them the reasons. You're learning and helping them at the same time.
Summary
The discussion provided several simple tips to help contractors acclimatise to IR35:
Get guidance from the government website.

Keep your own diary and control your own day and how you deliver.

Don't be supervised or receive direction.

Ensure your time with a client is a fixed term with clear deliverables.

Don't be named in the contract – list the role.

Ask a professional to review the contract. Although most will charge an additional fee, their opinion is certainly valuable.

Consider IR35 insurance.

Ensure you have a contractual right to substitute.

Deliver multiple contracts.

Publish case studies – think about what you've achieved, what you've changed and what difference you've made. Tell the story on LinkedIn so your network can spread the word.

Understand the client's decision about whether you're inside or outside IR35.

Use your own equipment – laptop, phone, even stationery.
​Conclusion
The introduction of IR35 has no doubt presented huge challenges to hiring companies and contractors alike. While many are still trying to get their heads around the implications of this legislation, professionals are gradually waking up to the realities and understanding how it will affect them in their working lives. For organisations, there are resources out there to help with determination. For contractors, there's a world of opportunity. The key, as with any significant change, is to adapt your ways of working. Professionals who can do this in a way that fits in with their chosen lifestyle, and satisfies their professional needs, will have the best chance of thriving in this new environment. For them, the transition will present countless possibilities.
​