Back to Blogs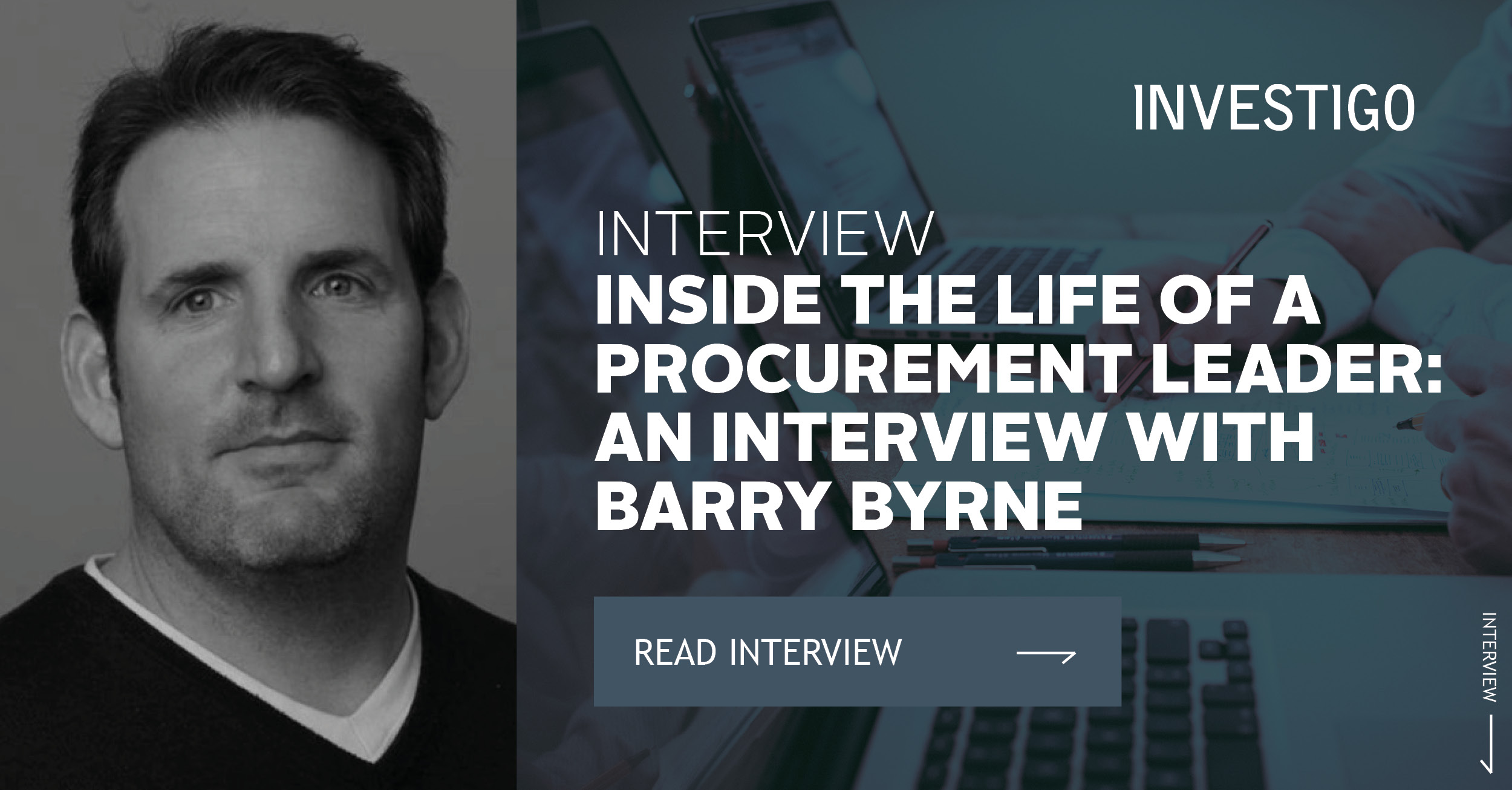 Inside the life of a procurement leader: an interview with Barry Byrne
​Barry Byrne is the Global Senior Director for Marketing Procurement at adidas. He is a passionate champion of innovation in procurement and has supported some of the most influential marketing campaigns of a generation, including Guinness's 'Made of More,' Smirnoff's 'Night Life Exchange' and Budweiser's 'Light up the World Cup.'
Barry has more than 20 years' experience working with some of the biggest names in the industry and is a true people leader with an excellent track record of developing teams that live to take on challenge and deliver outstanding business outcomes.
In his spare time Barry likes to attend his son's soccer games and watch his daughter horse riding. He also attends Ajax games at the Johan Cruyff Arena and never misses a Leinster or Ireland game.
Barry is one of the most authentic and influential leaders I have had the pleasure of speaking to, and I believe this has been key to his success to date. I hope you enjoy the interview.
Was procurement an intentional career for you?
Procurement was never the plan. To be fair, there was no plan! I finished up in college and floated. A friend of a friend asked me if I would be interested to take a three-month contract working for Guinness, filing invoices. I took the role, and the rest is history. Three months turned into 15 years, Guinness became Diageo, I moved from invoice controlling to procurement process to procurement and eventually landed in marketing procurement. I was very lucky to find myself in a company with great leadership, great culture and people who believed in me and supported me to grow and develop. After 15 years I left Diageo and joined Carlsberg as the Global Head for Marketing Procurement. So, I guess you could say procurement found me!
What skills does a career in procurement give you and how has that toolkit enabled you to fulfil your role today?
My biggest strength has always been and remains today my ability to tell stories, make connections and drive change. Procurement lets me play to my strengths. But along the way procurement has given me a fantastic grounding in how business operates end to end. You really need to understand this to develop strategies that make your organisation stronger.
How do you think the procurement market has changed and what do you think it will look like in five years' time?
When I began my career journey, I was lucky in that Diageo was already quite advanced in this space. Procurement was integrated into the organisation and we worked hand in hand with our stakeholders to drive value. I was to learn that this was not the case across industry and that many companies operate a far more tactical procurement organisation with a very clear focus on cutting cost. In this environment procurement really isn't fulfilling its potential. I also believe that many procurement processes and ways of working need to change. If the COVID pandemic has taught procurement anything it's that the industry needs to be quicker to react. One-hundred-page category strategies hidden in drawers don't add any value when a crisis hits. I believe in the next five years procurement will become more embedded in organisations, more CPOs will join company boards, there will be a pivot from cost cutting to innovation and sustainability delivery, and most importantly, procurement will become a faster, more agile function, ready to react to business conditions. If I have my way, procurement will also see a huge increase in female leadership.
Which procurement professionals have had the biggest impact on your career?
When I look back at my career to date it's quite easy to pick out individuals who had the greatest impact on my career but I think it's also important to recognise the companies that impacted my career. Without a shadow of a doubt Diageo gave me the best procurement and culture education anybody could ask for. I'll forever be grateful for that. SABMiller was also a fantastic organisation to work for and now adidas is a truly unique organisation with great people and enormous potential. I'm in awe of the brand that is adidas. In terms of people, well what can I say, women make better leaders, that has been my experience. I believe I have worked for, been coached by and developed by five of the best in the world – Christina Ruggiero at Diageo, Natasha Lee, Katharina Stenholm and Michelle Baker at SABMiller, and Paula Martinez at adidas. They all taught me a similar lesson: collaboration eats competitive tension for breakfast and your people are your most precious resource. Supporting, growing and developing people to reach their potential is not only incredibly rewarding but it also drives incredible results. Working with these leaders has been the highlight not only of my career but my life in general.
What do you do differently as a leader?
When starting a new role as a leader I invest a lot of my time getting to know the people and building a team that can connect with itself. Team is not about individual, it's the collective that drives results. I make sure to create connection with every member of my team and understand their motivations, their requirement, what makes them who they are. I don't just want to know them as work colleagues, I want to really get to know them on a deeper level because I believe getting to know your people creates stronger relationships and stronger relationships lead to breakthrough results. Procurement struggles with diversity and inclusion. I believe to change culture requires action. I build gender neutral teams – in fact right now I have some work to do to bring some men into my team. My focus on growing and developing female procurement talent has led to a leadership team of 100% women. Few teams in procurement can relate to this. That said, I'm convinced together they have built the best marketing procurement team in the world.
What are your three non-negotiable behaviours for you and your team?
Trust – I give trust up front. No need to earn it but it comes with a condition: put the team first, grow together and deliver outstanding results.
One team. Be the best – Always strive to be the best you can be in everything that you do. It's okay to fail but learn and come back stronger.
Freedom to succeed – I will always give my people the freedom they require to balance their lives with their work, their family, their ambition and their aspirations. All I ask for in return is to ensure the success of our team.
What are you passionate about?
I'm passionate about people and I'm passionate about my family. I'm a dad and I'm a leader, the two most important parts of my life. I'm passionate about the ability of people to come together to deliver great outcomes. I'm passionate about gender diversity and ensuring my daughter has all the same opportunities my son will have in life. I'm passionate to leave this world just a little bit better than I found it.
If you'd like to speak to us about finding your next senior procurement role or hire, please contact us.