Back to Blogs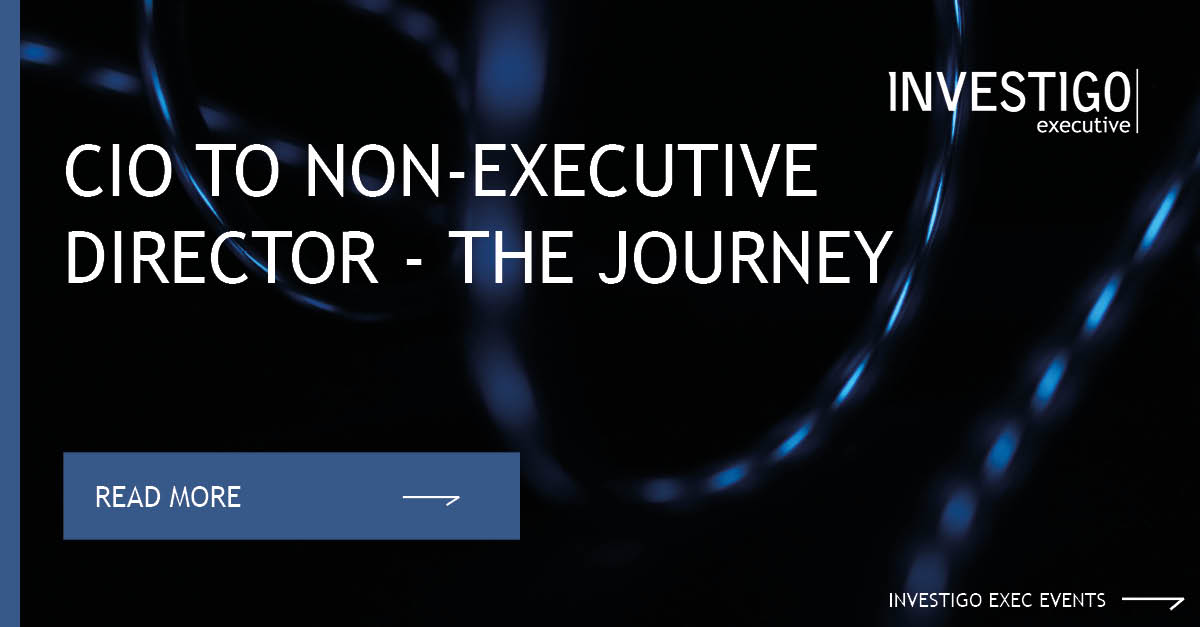 ​CIO to Non-Executive Director – The Journey
Although technology has become more important than ever in a distributed working world, there is still a lack of tech experts on company boards. Investigo held a panel discussion on Thursday 8th April on the journey from CIO to non-executive director, hosted by Matt Smith, Chief Revenue Officer and Chris Seel, Director. They were joined by a panel of Peter Reichwald, an expert CV writer, and experienced CIOs and non-executive directors, Sarah Flannigan and Paul Coby, who offered practical tips for CIOs looking to achieve non-executive director roles.
The application: Peter Reichwald
It's important first to understand why an organisation is looking for a non-executive director. As a CIO, you may have the expertise in transformation, organisational cultural change, technology or digitalisation to help them achieve their strategic goals, or regulatory experience across different jurisdictions to help them achieve governance oversight.
Take a dispassionate look at the criteria on whether a role is for you, where you can add more than the other candidates. If you hit 75% of the criteria, you should take it seriously. At the same time, you shouldn't narrow the pool of opportunities down too far.
How should you approach the search for a non-executive director role?
You need to demonstrate passion, why you want the role – where your passion crosses a need, there's likely to be a role for you.

Remember it's all about what you can do for the company, not what the company can do for you. The door opens outwards.

Accept that you will have to deal with adversity.

Be happy – people often walk into the interview room with their shoulders drooped. Be upright, smile and engage with the panel.
CIO CV tips
A CV should be a factual evaluation of your career progression and achievements, yet directed at each specific role. You should never use the same CV twice.

Aim for two pages, not more than three.

Your profile should be three or four lines long.

Include details for the last 10 years and no longer, as the world has changed.

Provide the name of each employer along with its activity, size, turnover and number of staff, as well as your job title and responsibilities, in two or three lines.

Avoid colloquialisms and inhouse speak, which will mean nothing to the people reading your CV.

Include work outside of your day job – charity work, school governor positions.
The covering letter
Your covering letter should be up to two pages long and the person specification should guide you on the points you need to cover. Your motivation to apply has to be in black and white. What is it about the company that you like, and what are the challenges that appeal to you? Illustrate your achievements with bullet points of first-hand examples, including the objective, how you achieved it and the quantifiable outcome: 'by installing this system, I reduced operational costs by a certain percentage.' Remember, not 'we,' but 'I.'
The network
Everyone needs to know your aspirations. If they don't know you want to be a NED, that you have the capacity to be a NED, they won't think of you. Above all else, your network is crucial. During conversations at social events and the little places where people meet people, drop in that you're looking for a NED role. One of the first places people will hear that a company is recruiting a new NED will be when the chairman is telling the board.
"The door to winning your role opens outwards. Be your own estate agent and sell yourself."
The CIO juggling act: Sarah Flannigan
"I love it. The variety, the challenge of context switching from one organisation to another hour to hour, several companies in different sectors every day. It keeps your brain sharp. It's exhausting but wonderful. I'm learning at a level I've never learnt before, and I've become more useful as I share what I learn with other organisations."
As a non-executive director on the boards of eight companies, Sarah has to play very different roles depending on the needs of the organisation. She's working with various CIOs and tech teams at various stages of evolution and maturity. Being able to keep abreast of so many different challenges is incredibly powerful.
Becoming a non-executive director
It's important to be a chair. Sarah fell into non-executive directorship by jumping off the exec career ladder. Being a chair fulfilled Sarah's need to be driving something forward, which she was able to do through the CEO and leadership team.
With an intense portfolio, it's about playing with the graphic equaliser of roles where you always know where your next opportunity will be, and are able to feed in one role to replace another.
What makes a good NED?
If you get the chance to work with a board, watch how they work. What impact do they have on the organisation and what can you learn from it? A NED is there to lead through others, not to show everyone how much they know. Able to subjugate their ego for the sake of an organisation, a NED will know they're there to help the chair and the CEO to be successful. A CEO needs critical friends who will challenge, support and provide fresh ideas. You'll probably only make about 10 contributions a year, so no word should be wasted. NEDs often do their best work outside the boardroom, for example through an informal, quiet one to one with a CEO who's really struggling with something, or by mentoring a CIO.
Why are you useful to that board? CIOs make great NEDs as they work across the piece. They have to be strategists and delivery people who are interested in processes and transformation, and understand how every bit of the organisation works. Don't hide your battle scars in interviews, as boards want to know you've learned from them.
The challenges
The time commitment – this varies enormously. Do your due diligence, speak to other NEDs on the board. There are usually about 20-30 days a year, half of them meetings and half of them reading papers and preparation.
Fees – these will start at about £5,000 a year for a government body and rise all the way to six-figures sums for a FTSE 100 company.
Balancing – you'll need to graft to fit it in alongside your day job. No one should think for a moment that your eye's on another interest – but your day job has to come first. The board want to know you've got live, relevant experience.
Starting off – joining a board of governors is an amazing way to give something back to the community and learn how to be a non-executive director. It's pro bono but if you're serous, those are the hard yards you'll need to put in to start with. The NHS trust or cabinet offices are good places to start.
"Network and network and network. Tell everyone you're looking for a role. You just never know when someone will be looking for your skills. Get ready to grab your chance when it comes along."
Becoming a non-executive director: Paul Coby
How do you get a non-executive director role? What are you committing to? Why do it?
The worst case
You're on the board of a company that's been accused of misrepresentation or remissions in its accounts before you join.

The company is subject to a hostile takeover from activist shareholders who feel the board has mismanaged the company.

You attend daily board meetings that clash with your day job.

The company is subject to anonymous allegations of various illegal activities. They might be completely unfounded but they have to be dealt with.

You've been hired as a specialist IT director by a startup.
Why do it?
It challenges you to see the whole business like a CIO, CFO or CEO. You'll have a lot you can add to the board, running core systems and probably adding to the digital strategy. You will understand your own company better and what's going through execs' heads.
Your job as a NED is not to do the jobs of execs – it's to help and support them. You need to challenge in a constructive way, do your due diligence on what sort of board it is. You will probably be hired for your ability to help generate business as well as to support on digital. Your relationships with people on boards of companies are really key.
How do you get one?
"Make sure sensible and trustworthy headhunters know you want to do this."
Build a tailored CV talking about what you will bring to the company and where you can add value, whether that's helping with IT, supporting on cyber security or developing a digital strategy. You're there for your overall value and your ability to see the big picture. Target a sector where you think you can add value. It's important to be realistic – build a ladder, maybe starting as a school governor. Build that network and get the right intros.
The top five things to look out for
Is it a solid, well run company? Do your due diligence. Commit your reputation, skills and career to doing this.

Will you get on with the key people? Talk to the chair and the CEO to find out.

Can you afford the time commitment? Your day job is number one. If something has to give, it should probably be your NED role.

The culture of the board – light touch or interventionist?

Are they really hiring a non-executive director to do the IT director or CIO role? You're not being paid to do this and it's not in your job specification.
​
Conclusion
With their technological and digital expertise and the global oversight afforded by their roles, CIOs can bring real value to non-executive director positions while enriching their own knowledge and experience. It's a mutually beneficial cycle for the individual, for their employer and for the companies they support as a non-executive director. As more and more organisations wake up to the importance of technical knowledge in the boardroom, we'll undoubtedly see an increase in the accountabilities for non-executive directors – and in the number of CIOs being given these positions.
Many thanks to our panel and if you'd like to find out more about becoming a non-executive director, or you'd like to attend our next event, please contact us.
​
​