Back to Blogs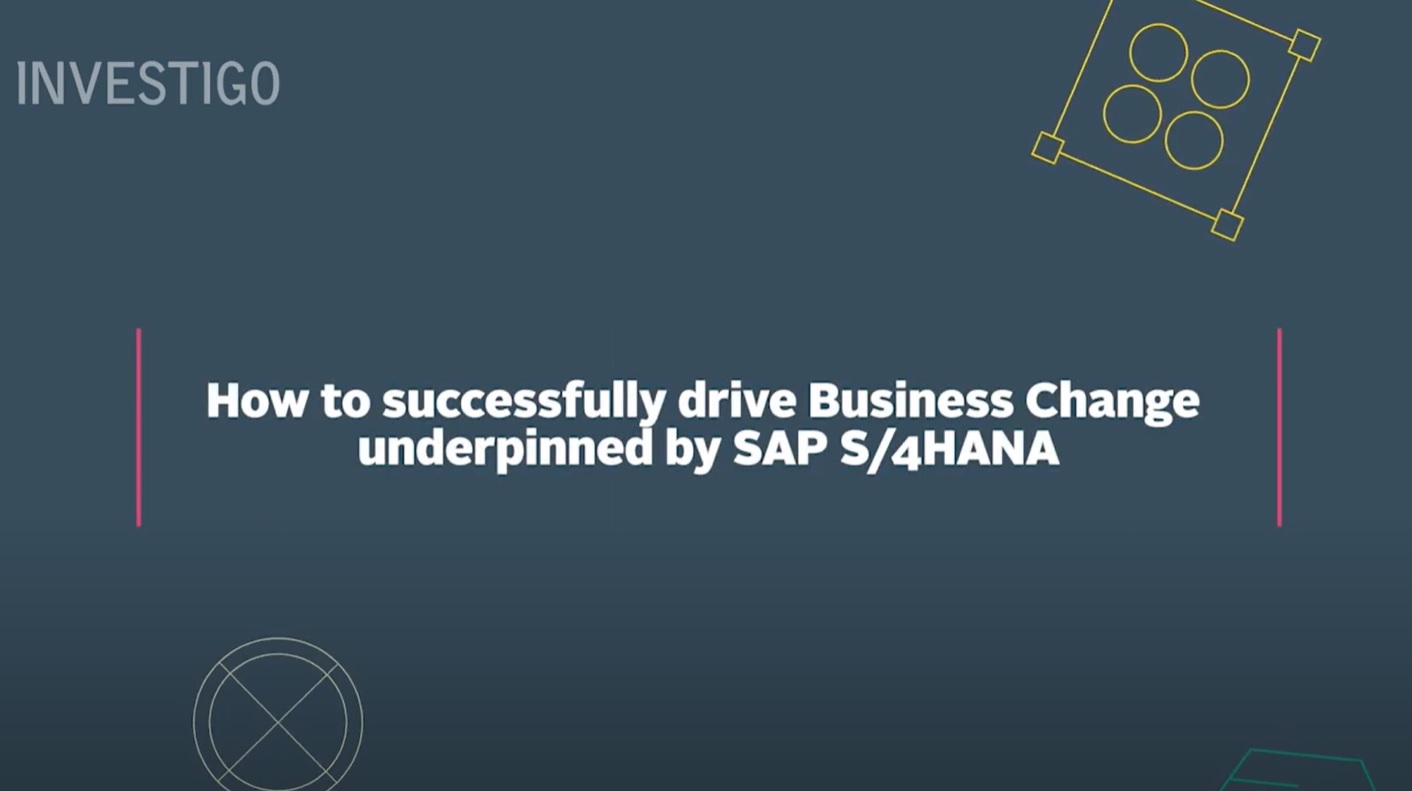 ​How to successfully drive business change underpinned by SAP S/4HANA
Introduction ​
The latest webinar from Investigo's SAP team discussed how organisations can use SAP S/4HANA to successfully drive business change. Principal Consultant Lewis Dunn and Partner Raj Narwan were joined by experienced change management professionals Christina Cowling, Alex Yim and Bernadette Cosgrove, who each shared their insights and advice.
How leadership alignment is critical to the success of your S/4HANA implementation – Christina Cowling
​Projects that fail to achieve a return on investment or the anticipated benefits, run over time and budget or are abandoned, have one thing in common – a lack of leadership alignment.
​Leadership alignment starts with your senior business sponsor, whether it's the CEO, CFO, a senior executive or C-suite level representative. This will be the person who holds the purse strings and understands that the programme is an absolute priority at the company at this time. The programme could be driven by growth, survival or regulatory compliance. If you don't have a senior sponsor to provide their full backing, the project stands little chance of success.
​While your sponsor will see the benefits of the project across the board, this may not be mirrored throughout the organisation. It's therefore important to understand all your stakeholders' different levels of commitment. In cases where there are conflicting views on what a project should deliver, change management has a significant role to play in uncovering those conflicts and bringing together the people who can come up with solutions – the implementation partner, functional leads and global process owners. Change managers need to achieve alignment at leadership level when faced with conflicting priorities. ​
Once bitten
It may be hard to convince the organisation of the need for change when it has been burned in the past. Not many companies are doing greenfield implementations these days. Most have been through the pain of ERP implementations. There may be a feeling among some stakeholders that these projects are black holes sucking up information, data, resources and time, with nothing coming out of the other end. By conducting a review of its project history, you can acquaint yourself with the organisation's past experiences and learn from them, taking steps to ensure you're improving the implementation process moving forward.
​The people working on a project will also have their BAU jobs, so they need to see the value of the project. Ensure you tap into industry standards and best practices. As a process owner, it's part of the role to prevent people from becoming entrenched in existing ways of doing things. ​
The 10 change management considerations for SAP S/4HANA transformations – Alex Yim
1.Change impact assessment
This in itself is not change management. On small projects, you might identify 10 or 20 impacts, but on a typical S4 transformation with multiple modules and process areas, you could be looking at up to 500. Change practitioners should bring that to life visually with graphs and charts, categorising and quantifying that change.
2.Change impact mitigation
When stakeholders have their own BAU jobs to think about, other priorities can take over. The more accessible we can make the data for change impacts and mitigation, the easier it will be to work with stakeholders involved in the change. This can be through the effective use of charts and visuals to bring it to life.
3.Change network
You might be the best change practitioner in the world, but you won't be able to effect change without a strong change network made up of business representatives.
4.Engage with the business
Work closely with the business and keep them informed and engaged. Coach your stakeholders as they might not be familiar with the tools and techniques you use. Learn to speak their language. If it makes more sense to call the change impacts management process something like a business impact assessment, then do it.
5.Framework to demystify change​
Structure and make change deliverables and activities practical and measurable to help get the budget and resource that you need.
6.Project plan / change plan
People have different ideas of what constitutes a change plan. Some will call it a change project plan or even something else. Try to align languages and concepts. In the end, use a plan that covers all aspects of change, communications or engagement activities in a conventional project plan format.
7.PMO relationship
It's important to partner up with PMOs to make what you do measurable and integrate with other streams and teams in the programme.
8.Integration with other streams
In the context of contributing to the success of S/4HANA programmes, you have an obligation, more than the data or testing team, to integrate with other streams and identify overlaps. You've got the knowledge and wide-reaching business relationships to do that.
9.Cadence with sponsor
You need to have open and frank one on one discussions with your sponsor about change, whether fortnightly or monthly, to make it a success.
10.Budget and resourcing
None of this is possible without working with the right specialists to find the best resources.