At Investigo we take great care to ensure we are supporting our clients and candidates through legislative changes in both the UK and International markets.
In April 2020, the IR35 Off-Payroll reform that was introduced into the public sector back in 2017, will be extended to the private sector. This will change the approach that you need to adopt when fulfilling open interim and project-based requirements and of course it will also directly affect a significant number of the contractor population.
Investigo will partner closely with you and our contractors through this period of change, ensuring that best-fit solutions are implemented for each specific hiring or project need. With our extensive experience in the public sector we have already developed a number of solutions enabling us to continue to fulfil our clients' needs and requirements. As a result we will be able to replicate and adapt these solutions within the private sector.
This guide will walk you through the legislation, what to expect from the reform and the steps you can take now to prepare for April 2020 and beyond. We know that legislative changes such as this can provide a certain level of uncertainty, so we trust that this guide goes someway to minimising any possible disruption to your organisation.
If you would like any further information please email: ir35@investigo.co.uk
​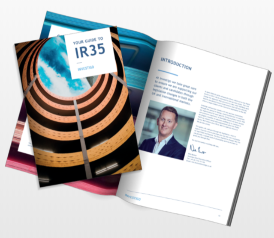 Download your copy here:
​
​