Back to Blogs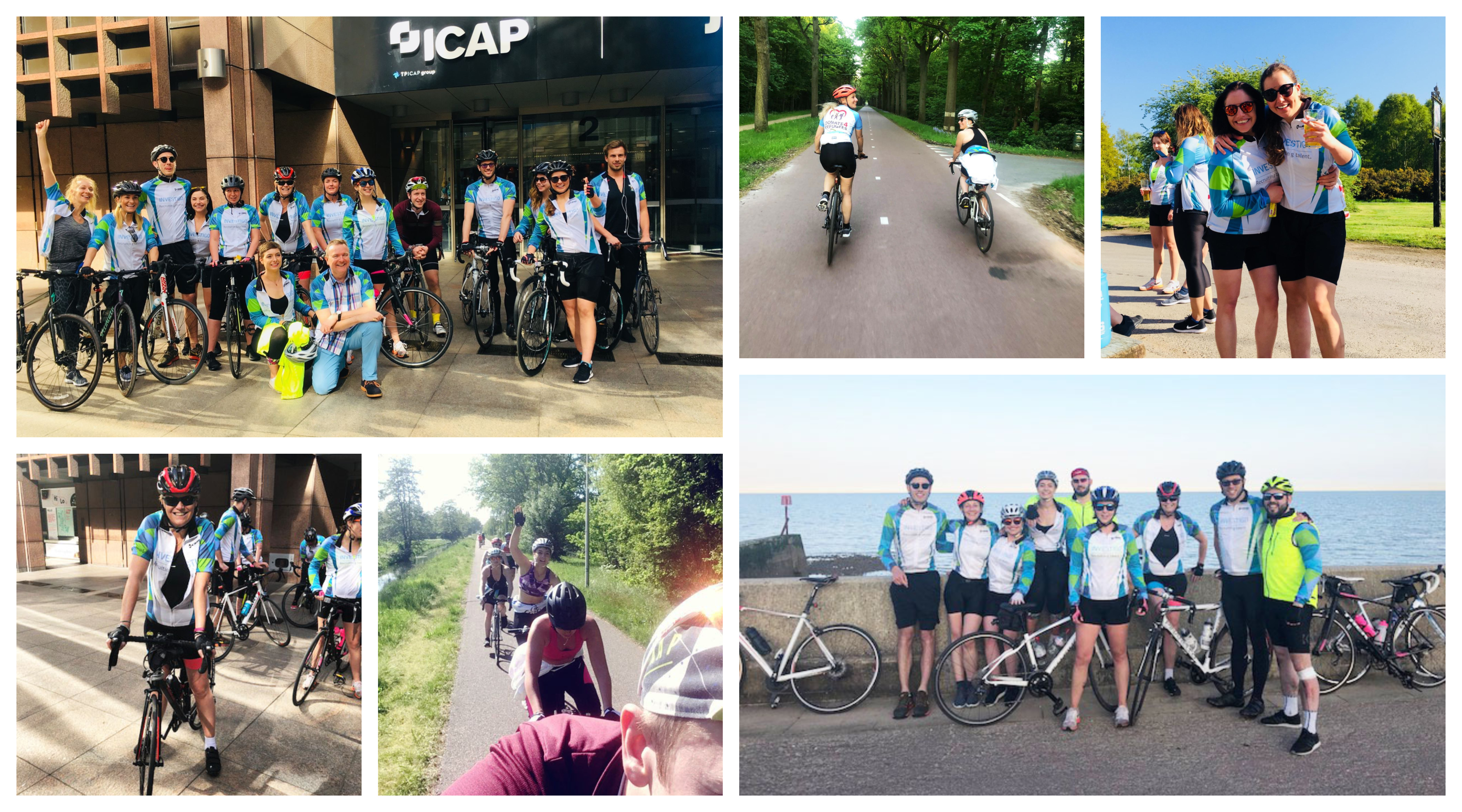 250-mile Charity Bike Ride Diary from London to Cologne
Friday
03:00 Alex gets into bed after getting a bit too carried away celebrating into the early hours after our 'Recruitment Agency of the Year' award win at the Recruiter Awards!
08:00 We start to assemble outside One Broadgate. Tyres are getting pumped up, the group is shovelling down carbohydrates in all forms and Mike is lightly sweating as there are only currently three bikes in site.
08:30 Ben tucks into his seventh sandwich of the morning and Alex is unusually quiet.
08:45 We are nearing 18 bikes now but no sign of a support van. Last minute chamois cream is applied.
09:00 The non-riders at Investigo and out charity Centre for Mental Health join us outside the office to cheer and wave us off.
09:01 My shoelace immediately gets stuck in my chain and causes an unexpected water break around the corner in Finsbury square. Good start.
09:05 And we're off again. We journey our way out through East London, getting lost at traffic lights and cursing cars, but everyone's excited. It's hot and sunny already, and many a rider is questioning whether the once-celebrated long-sleeved jerseys were indeed a bad choice.
09:30 I'm cycling merrily along and see Victoria, to my right, brake HARD with her front brakes. I watch in slow motion as her back tyre lifts her gracefully from her seat and slam her onto the tarmac in front of her bike. Quite an impressive front flip for so early in the game. She hops back on her bike, a little stunned but with nothing broken, and we continue.
10:30 Colley flies around a corner and confronts a car head on, narrowly avoids a collision and comes off with a grazed and gruesome looking knee.
11:08 Kate's bike falls to pieces beneath her and forces her into the pitch-black support van. She makes some frantic calls to Evans Cycles who assures her (Mr Evans, I assume) that he'll have her back on the road in no time. Hurrah!
11:44 Everyone makes it to our first stop, and 1/3 of the way through the first day, Blackmore Tea Rooms.
11:45 Everyone except Daisy and Colley, now it seems. Daisy has a puncture about 5km before the tea rooms and Colley, who after chasing us down the road for 5.97km concludes he'll never make, turned back and is waiting by her side. Alex comes to the rescue, replaces her inner tube in record time and we cycle back to the tea rooms for sandwiches and a beer (or a full English and 5 bottles of Magners, if you're Chris)
13:26 Heather's bike also falls to pieces beneath her and forces her into the pitch-black support van, with Kate, which is already on the way to Mr Evans.
14:26 Colley gets a lesson in bike riding when Mike informs him he's been cycling with his brakes on. He takes it like a champ; It can't be easy to realise you've been that silly.
14:35 Joyous news that Kate and Heather are both fixed up, looking sharp and ready to reunite with the group. This second leg is a tough one; There are hills (plenty of hills) and it's hotter than anyone could have imagined. The requests for exact miles to travel until the next stop are becoming more and more frequent as people are tiring.
15:18 We get to our second stop, 2/3 of the way through the first day. Steve applies chammy cream unabashed mid-conversation and we all worship Waleed for his culinary skills demonstrated in his homemade energy bites. Is there anything that man can't do?
16:38 We set off on the final leg, eager to get to Harwich, the place where dreams come true.
16:55 I lose sight of the front group and stop at a turning to wait for Mike, not wanting to take a wrong turn and get lost. I'm staring at some movement in the bush ahead wondering whether it's a rabbit or perhaps a fox.
16:56 Mike and the others come up the hill and out of the rustling bush jumps a fully-grown deer, which hurdles Mike, narrowly missing his face, and dashes across the road to the bushes on the other side. There's a quiet moment before we all carry on, as we all reflect on what just happened.
19:21 Half our group stops by the seaside to take a quick snap on the way into Harwich. Tom asks a group of youngsters to do the honours and they are incredibly impressed with where we've cycled from.
19:33 We arrive at Harwich, call loved ones, hurl bikes quickly in the van and march on to the nearby chippy where we scoff 18 battered sausages in lightning speed, perched on a pavement. Everyone agrees it wasn't the best battered sausage they've ever eaten (was it even cooked?), but as it barely touched the sides it was largely irrelevant.
20:30 We seek refuge from the cold in a nearby bar where Tom sings Karaoke with an 'older' lady who dances with/against him a little too passionately for her husband's liking, who watches furiously from the bar.
21:15 Making a swift exit, we make our way onto the ferry, finding Jas' passport along the way, and into our rooms for the night. Colley recounts many tales of his many falls and Daisy (who particularly enjoyed the rolling hills of the Essex countryside) suggests our mighty leader Mike should 'pass away in his sleep' so that we wouldn't be able to continue with the cycle.
Saturday
09:00 After several rounds of cooked breakfast on the ferry, we assemble in the car park at the terminal. Tyres are pumped up, water bottles are refilled, Steve offers his gel bike seat to Rachel, who accepts, and Steve sits back on his bike with a face like a kicked puppy. A beautiful day to be cycling through flat, flat Holland. Sore bums and high spirits is the order of the day.
12:03 After a comparatively uneventful morning we stop for chicken burgers, bitterballen and beers (or a Chinese takeaway if you're Paul) and then get back on the road making good progress.
14:00 Some of the group are struggling with the battle against the strong Dutch winds. It's very hot now so we are stopping more frequently seeking shade and water. Alex takes the front spot to help the group out and we all tuck in closely behind.
15:10 There is worry as it's looking like Lisa's bike may suffer the same fate as Kate & Heather's the day before, but she manages to power on.
15:15 We arrive at our second and final stop for day two, and Gary has found a Michelin recommended Windmill, of course he did. Mike announces that this time last year we would have reached our destination in Amsterdam… which receives mixed responses. We almost kid ourselves that we've reached the end as we tuck into yet more bitterballen (The Netherland's number 1 snack) and more beers/wine/Aperol Spritz's sitting outside in the sunshine.
16:30 After some car park yoga and more carefree chammy-creaming, we're back on the road. This time in 2 groups to allow for varying paces/breaking bikes/levels of inebriation.
17:05 We are cycling at pace through a lovely wooded area, Alex is being the group's windbreak again as Steve and I discuss who would most likely get eaten by a bear…
17:06 Our conversation is abruptly cut short as we witness Ben, riding just ahead, take a corner at speed. He narrowly misses an elderly couple coming slowly around the corner on their heavy, electric-assisted bikes. Shocked and terrified the man creeps forward, wobbles a bit, moves some more, then topples sideways into the mud, bike on top of him. Ben and Steve double back to help him to his feet, the man's wife cursing at them in Dutch.
17:12 We all carry on, praying he'll live to a ripe old age, and not letting Ben live down his mistake for a solid hour or so.
19:20 After a flat and quick last leg of the day, with everyone enjoying some slip-streaming along beautiful long stretches of road and some of us being pulled over by police for missing the rather-obvious cycle paths, we arrive in Eindhoven. Bikes are stashed away and celebratory drinks come out, with Chris putting away circa three bottles of rose before we sit down to eat.
23:00 Most of us go to bed, whilst Paul and Chris head off to watch some sport, where else but at a nearby Irish pub.
Sunday
04:30 Chris goes to bed.
08:00 We have breakfast downstairs in the hostel then start to assemble outside for the 3rd and final day of cycling.
08:55 I go up to my room to collect my things and hear a cry for help from Ben, who's sharing a room with Chris and is unable to wake him. I assist Ben in rolling Chris around in his bed and throwing his covers, but the guy just won't wake up, and seems completely unaware that we have another day of cycling to do.
09:10 We give up, and the core group departs Eindhoven, leaving Alex, Steve and Ben to drag Chris in and out of the shower and put him back on his bike.
10:30 It's a hot cycle again this morning and there are some tired looking faces by now. Some of the group are struggling but everyone manages to stay together, just.
11:40 The group arrives at Roermond for our 1st stop of the day. We eat yet more carbs, drink water/beer and sunbathe in the 27-degree heat. Miraculously, we are shortly joined by the remainder of the party who tells the story of their struggles this morning with the still-drunk Chris.
13:00 We leave the boys behind again and crack on with the next leg, getting a head-start. There are some hills, some tracks and some rocky forest paths. Riders are clutching onto Snickers bars with all their might and there are a few topples on uneven ground. Half the group get separated at a right turn and must cycle back to the top of a huge and unnecessary hill to correct themselves. Everyone is eager to get to Cologne now.
15:45 We arrive at the 2nd and final stop of the day, and practice our limited German on a poor Barmaid who's never seen so many English people in lycra. Jas brings out her glitter and makes sure everyone is suitably sparkly before we set off. She's under pressure from Mike who wants to crack on with the final leg, but she delivers. We discuss a potential career move into on-bike makeup artistry but decide it's a bit too niche, and Jas's isn't all that sold on this whole bike riding thing anyhow.
16:25 We're on the final leg. There's silent excitement and we keep ourselves distracted with chat about the night/s ahead in the city of Cologne.
18:00 The countdown for the last 10 miles is keeping us going as we start to approach the City and see signs for the Town Centre. Some kind of pavement collision happens up ahead with Hannah thrown into a car and Vic ending up on the floor. It's unclear what's happened exactly but we move on quickly to get to the finish line, and only mental scarring occurs.
19:18 We arrive at the Cathedral in Cologne, our final stop, and are joined minutes later by Alex, Steve, Chris & Ben. Someone does a shop run and we sit on the steps of the cathedral, making emotional "I made it!!" calls to friends/family and post-event shout-outs on social media for sponsorship, with sweaty-faced success photos attached.
20:18 We pack the bikes into the support van to be driven to the ferry in the morning, and all cross our fingers in hope that it gets stolen overnight.