Back to Blogs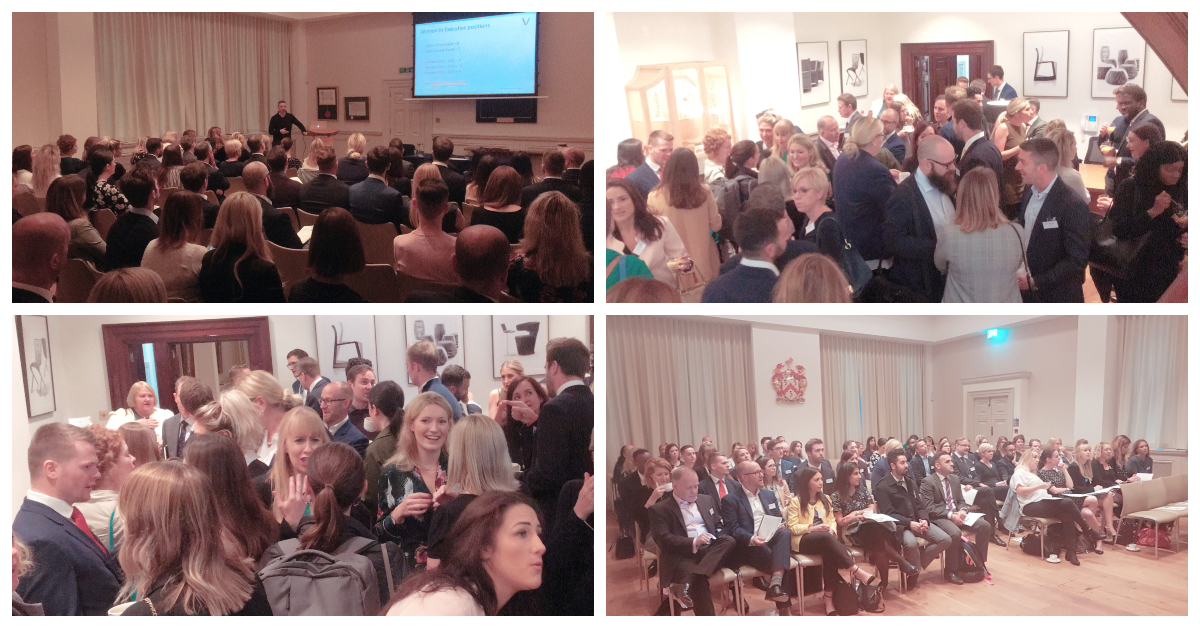 Are Diversity Quotas necessary for us to reach equality?
Diversity and Inclusion continues to be a core focus for businesses globally, with many introducing informal diversity targets within their recruitment processes. The introduction of formal diversity quotas to accelerate gender parity was discussed at our Diversity and Inclusion breakfast networking event held yesterday at Furniture Makers' Hall. Hosted by Dan Robertson from Vercida Consulting and attended by over 70 attendees, the discussion covered a novel yet emerging topic for many businesses looking to improve their diversity ratios.
As a specialist Diversity and Organisational Development consultant, Dan drew light on the increasing number of women on UK boards – since 2011 this has more than doubled to 29% from 12.5% as well as the increase in the number of women in executive positions. Whilst encouraging figures, the 2017 World Economic Forum report found that gender equality can only be attained in an estimated 217 years as opposed to the 170 years reported in 2016. Similarly, the representation of ethnic minority candidates at Board level (only 85 of the 1,050 director positions in FTSE 100) and BAME candidates in senior management positions (only 6%) were discussed. So why wasn't this improving despite companies' increased awareness and efforts to improve the ratios was hotly discussed.
The key point to note for organisations looking to improve their diversity must begin with collecting relevant data around the recruitment and hiring process. This data can be analysed to find trends, patterns and hiring styles prevalent within existing processes and determine the key blockers to a diverse employee pool. Understanding why a person has been shortlisted, interviewed or appointed and the micro behaviours that drove the hiring process, can help organisations devise a strategy on whether to introduce diversity quotas formally or informally. Conversely, not collating any statistics carries the implication that this is not on a key item on an organisation's agenda.
Dan's opinion on introducing formal diversity quotas was to probably consider implementing them for a certain period of time to accelerate equalising gender ratios. However, whether these are explicitly communicated like Lloyds Bank, PwC (banning all-male shortlists), BBC (banning all-white shortlists in middle/senior management posts) or informally communicated to recruitment agencies is a matter of preference as well as an indication of the seriousness exhibited by companies. Either way, there are several approaches that can be adopted including:
Market forces approach

Soft PA

Positive action

Target setting

Quota setting
Interestingly, Section 159 of the Equality Act 2010 enables an employer to afford a more favourable treatment to a candidate with a protected characteristic who suffers a disadvantage or is under-represented as opposed to someone without such a characteristic. However, this can only be exercised if both candidates are equally qualified with comparable experience and only if the company has demonstrative evidence of gender inequality collected over the preceding 12 months.
Dan went on to outline some steps that companies could adopt as part of improving their current processes:
Job Design: reviewing for language bias - removing words like 'gravitas' which traditionally attracted male candidates; including diverse images attracted diverse candidate shortlists

Candidate attraction: by setting targets both internally and through your supply chain, i.e., your recruitment partners

Shortlisting: by adopting blind recruitment strategies, i.e., removing name, university etc. and assessing a candidate's merit as they are – this strategy has been adopted by EY for graduate hiring

Interviewing: using pre-set and uniform questions

De-briefing: using aggregate scoring methods and adopting a 'Devil's advocate' who has the authority to influence change
By embedding some or all of the above steps as well as reviewing key leadership criteria, companies can succeed in improving their existing diversity ratios. However, in order for an organisation to effect such a positive change, it has to have the right leadership, right systems and the right culture. By understanding the positive impact that an organisation will have by sponsoring diverse talent as well as ensuring this remains visible across all echelons of a company, change will occur steadily and hopefully not too slowly!
This Investigo Network event is part of a series of events we are hosting to bring insight to our clients and candidates, on topics that are relevant in today's business world.
If you would like to learn more about the events and publications being released for the Investigo Network please contact Lisa Holberton on lisa.holberton@investigo.co.uk