Back to Blogs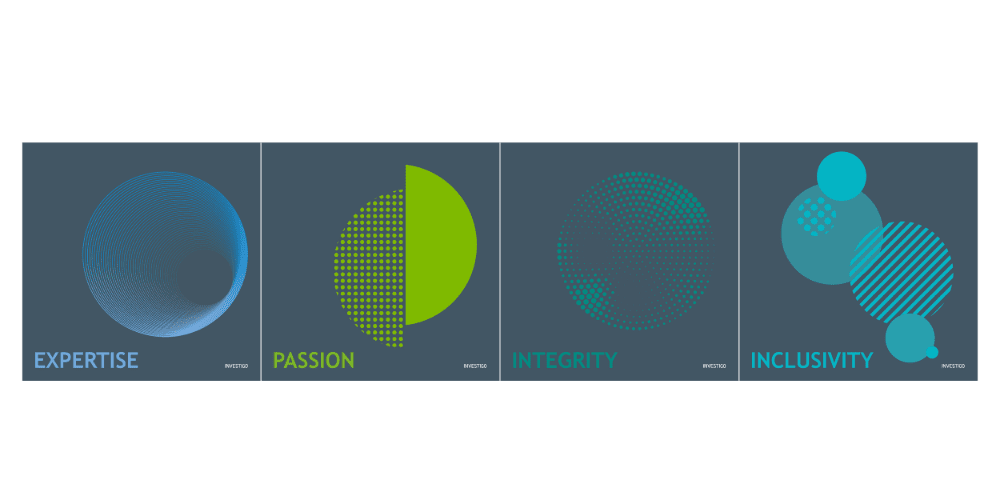 Investigo Launches New Values
​In June 2018 we embarked on a project to review our core values as a business. Our values were initially created in 2010 when the business was a headcount of 67 with a £32 million turnover. Today, we are a 190-person business with a £115 million turnover, a new CEO and at the beginning of the next chapter to our journey. Therefore, this felt like the right time to evaluate what really makes Investigo the business it is today and what values are inherent in all our people.
The 2010 values were reached through consultation with the management team at Investigo. In 2018 our CEO, Nick Baxter felt strongly that we should canvass the opinion of every employee. This is particularly important, given the inclusive environment we have fostered whereby every employee feels like they have a voice and a platform to contribute to the business strategy.
We partnered with Texo Consulting, a specialist Values & Branding agency, to review our current values and understand how applicable and relevant they were to our current employees. The entire company was asked to participate via an anonymous survey, with a further sample of 20 face-to-face interviews conducted across the business. These sessions allowed us to reach a set of values that truly reflected what our employees thought and we are now delighted to announce our new values.
Our chosen values are at the core of our business and new 2022 strategy:
EXPERTISE
We add value by asking the right questions, sharing market insights and offering expert advice
WHAT WE MEAN BY THIS
We are experts within our markets

We enjoy learning to help us stay at the forefront

We set high standards and work hard to exceed them
EXAMPLE BEHAVIOURS
We offer expert advice and insight to our clients, candidates and to each other

We ask "good questions" and are not afraid to challenge others' thinking

We grow our networks to put relationships at the heart of everything we do
PASSION
We genuinely love what we do and have fun doing it
WHAT WE MEAN BY THIS
We are committed to our industry, our clients, our candidates, our people and our company

We go the extra mile

We constantly strive to be the best
EXAMPLE BEHAVIOURS:
•We go above and beyond to match the right candidates to the right clients
•We get involved with initiatives that go beyond just recruitment
•We create the best working environment we possibly can
INTEGRITY
We always do what we think is right and we are committed to being open and honest in all of our dealings
WHAT WE MEAN BY THIS
We have a strong moral compass

We are transparent and honest

We think long-term
EXAMPLE BEHAVIOURS
We are open and honest about the services we offer

We build strong relationships based on mutual trust, respect and partnership

We are fair in our recruitment approach and in our dealings with each other
INCLUSIVITY
We value and empower the diverse contributions everybody makes
WHAT WE MEAN BY THIS
We care about individuality and diversity

We are a team and work collaboratively across all areas of our business

We support everyone so they can reach their full potential
EXAMPLE BEHAVIOURS
We create a workplace where everyone feels welcome

We actively promote around the topic of diversity and inclusion

We recognise individual working requirements and champion working practices that work for everyone
If our new values resonate with you and you would like a career in recruitment, please get in touch with our Talent Acquisition team Lucy Crew for an informal and confidential chat.