Back to Blogs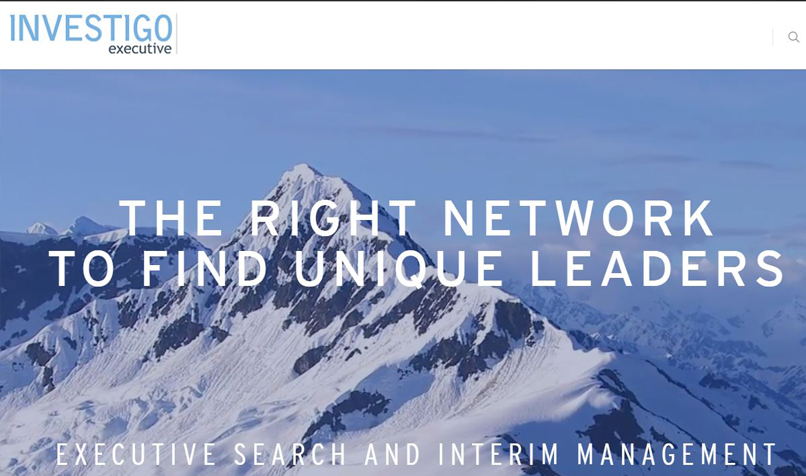 Investigo Launches New Executive Brand
​With a proven track record in the recruitment of Executive level positions, Investigo have launched their Executive brand to showcase their offering to their diverse client portfolio, which ranges from SME's through to FTSE 100 organisations and PE backed companies. The brand brings together the most experienced consultants in the search and selection field at Investigo. The team of specialist partners have established close relationships with their networks through providing outstanding service, coupled with their genuine passion to align leaders with their destined organisation.
Working across selected specialist markets; Accountancy and Finance, Business Change and Transformation, Procurement, Real Estate, Facilities & Workplace, Strategy and Technology – the practice leads take a collaborative approach and use their extensive network to identify exceptional leaders to work with exceptional businesses.
Nick Baxter, CEO, commented: "The world today has become increasingly smaller in many ways with the advancement of technology and worldwide mobility. However, the challenge to find leaders who possess the experience and skillset required, along with the right organisational fit, continues to be apparent. Our Executive offering brings our most experienced people together, along with their established networks in a truly collaborative approach to position unique leaders. The process undertaken at this level of seniority is extensive, with the ultimate goal to find an individual and business whose motivations and aspirations are mirrored resulting in the ultimate match. Our aim at Investigo is to make a difference and this exciting next step for the Executive part to our business portfolio will continue to do so for the benefit of both our clients and candidates."
To coincide with the launch of the new brand, Investigo has also launched a website dedicated to the new united offering as well as an event portfolio targeted at the Exec market. The first INEXEC event will be Executive Finance Leadership Forum, 'Brexit Breakfast', taking place 18th October. The event will be hosted by Investigo, Brian Connell, 'Brexpert' from KPMG will host the session on the impact of Brexit to businesses, whilst Hann-Ju Ho, Senior Economist at Lloyds Banking Group will look at trends in major world economies.
To find out more about our people, please visit www.investigoexecutive.co.uk/ourpeople