Back to Blogs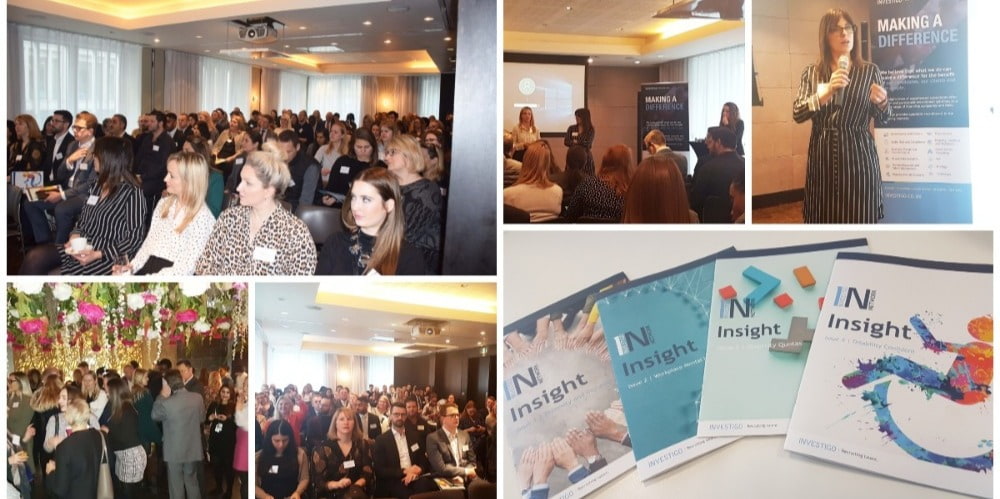 How to improve your Talent Pool diversity?
As companies increasingly embrace and embark on their own D&I journeys, as part of continuing the dialogue around Diversity and Inclusion, we recently hosted an Investigo Network breakfast event on 'How to improve your Talent Pool diversity' on Wednesday 13th February 2019 with key speakers Jen Davidson, Managing Consultant from the Clear Company and Maria Grazia Zedda, EDI Workforce Manager at HS2.
​
The Clear Company are leading D&I specialists, providing services and tech software such as Clear Assured to employers to support inclusive recruitment. Initially Jen took the audience through some interesting statistics such as roughly 6.4 million people having both caring responsibilities and work commitments, 3.2% of people over 45 in employment are disabled, 6 million people having dyslexia. Together these total over 70% of the available workforce – indicating diversity doesn't equal minority.
​
To ensure companies attract a diverse talent pool, it is vital to have an attractive employer brand by showcasing key characteristics such as an open culture, trust and transparency – so that employees feel they can bring their own authentic selves to work. Some ways to benchmark progress and get recognised for your D&I efforts can by via the Stonewall Top 100 Employer, The Times Top 50 Employers for Women, Disability Confident, Clear Assured etc.
​
You can showcase your D&I approach via various social media platforms, each of which is used by different demographics for example, Pinterest where over 85% users are female, LinkedIn having around 79% male users and Instagram being majorly used by the under-35s etc. Glassdoor is an insightful platform where employees (current and previous) can review the company and their own personal experience. Irrespective of the medium, it is vital however to keep the language and tone consistent and without any bias and this is indeed true for every stage of the recruitment cycle whether it be the job descriptions, talent sourcing or interviews/assessments.
​
In particular, the language of job adverts needs to be carefully analysed to check if they remain relevant and remove any superficial requirements such as specific no of years of experience, educational and academic qualifications, desirable criteria etc. For example, terminology such as 'work hard, play hard' may exclude candidates with young families or caring responsibilities.
​
Given that hiring decisions are based on gut feeling and instinct, there is a possibility of unconscious and comparison bias creeping in when hiring managers see CVs with names, past experiences etc. Therefore, it is crucial to ensure assessments remained inclusive and consistent, with a clear audit trail. According to Jen, this is also where the right recruitment partners can help by ensuring CVs are devoid of name and other key criteria which are capable of inducing bias in the hiring manager. It is also important to gather candidate feedback on the recruitment process and use that data to improve existing processes where possible.
​
Following on from this, Maria Grazia Zedda from HS2 also shared some of her experiences as well as the processes HS2 have adopted to improve the diversity of their talent pool. Her own journey into HS2 was different to any process she had experienced before. Firstly, following an online application with her CV, Maria was asked to complete two separate statistical problem-solving exercises. She was then informed that she had achieved not only been shortlisted but was ranked within the top four applications and this was without anyone yet to look at her CV. She was interviewed face to face and offered the role – certainly not the experience she had had with other firms. Needless to say, Maria was 'blown away' by the entire process, especially by the fact that she had been assessed and shortlisted only based on her abilities and not her name/experience/CV etc. Furthermore, HS2 were very accommodative in providing her reasonable adjustments as due to her deafness, Maria could not do telephone interviews as she needed to be able to lip-read the interviewer.
​
Now as the EDI Workforce manager at HS2, Maria and her team are working with their recruitment partners and hiring managers to fulfil their hiring plans of around 30,000 staff over the next 10 years, whilst ensuring their workforce continues to be diverse in its growth. Some measures that HS2 adopted include:
​
Blank auditioning: where candidates are selected based solely on their abilities and hiring managers need not review 100s of CVs. This measure for example, has greatly improved diversity of women in HS2 from 14% to 42% over the course of 6 months.

Clean up Job descriptions: remove unnecessary attributes like 'gravitas' which can indicate affinity bias and the inclination to hire someone like one's own self.

Clear Assured software: which provides assistance and quantitative steps to adopt throughout the recruitment process, making it into manageable chunks as well as holding people accountable for their tasks

Confidential coaching sessions: which are offered on a discretionary basis to candidates who are suspected of self-opting out of the recruitment process. Although the junior talent pool remains diverse, opt-outs are particularly evident in the middle to exec level from certain diversity groups.
In addition to the above, some other measures that Maria suggested that companies could adopt include:
An accessible company website

Sharing case studies and employee journeys on the website to showcase your inclusivity agenda

Creating a culture so people can feel inclusive: this can be done by matching a senior person to a junior person, of different genders and departments

Creating an online platform to discuss and exchange ideas, information etc.

Ensuring close captioning software is available for those who require it and discussing it on social media.

Blind shortlisting – where only experience is visible to hiring managers and nothing else.
As can be seen from the above measures, improving your own talent pool diversity is a holistic process and has no quick fix. The key is to ensure companies 'walk the talk' by training all hiring managers and embedding measures into their recruitment processes so it becomes part of their DNA. Furthermore, it is vital to share your diversity aims and agenda with your own recruitment partners who will then be able to assist and help trickle the message across the candidate pool and the market in general.
​
This Investigo Network event is part of a series of events we are hosting to bring insight to our clients and candidates, on topics that are relevant in today's business world.
​
If you would like to learn more about the events and publications being released for the Investigo Network please contact Lisa Holberton on lisa.holberton@investigo.co.uk