Back to Blogs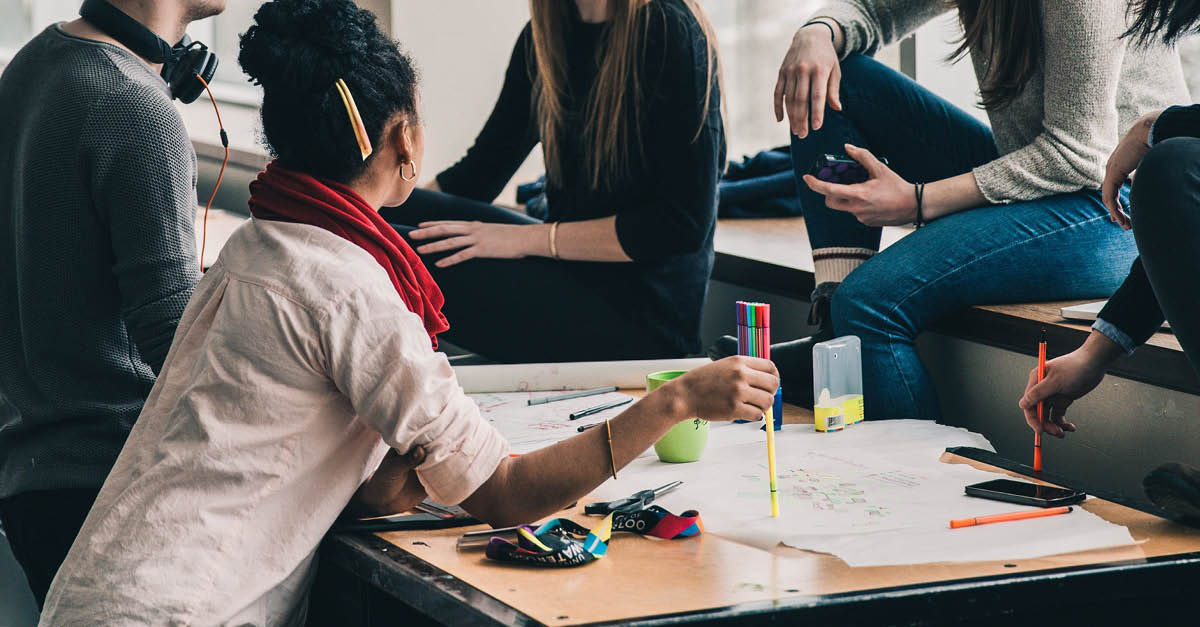 Cultural essentials for your organisation in 2023
If there's one thing that's changed as much as the workplace over the last three years, it's us. Through the rise of flexible working and the pandemic, work has become more intricately woven into the fabric of our lives than ever before. We're not just looking for a job; we're looking for a community and a vision that we can become an active part of. In other words – we're looking for culture.
There was a time when it was all about the employer, and we, as workers, were grateful to be there. But those days are long gone. Companies today must be employee-centric and build an environment where all of us, with all the differences we bring, can thrive. Things that were once seen as value-adds are now the basic building blocks for a successful, people-centric culture. Here, we discuss five of the most important.
Your technology has to be right
Integration, not isolation
You might think that technology couldn't be further from our idea of culture. After all, culture is about the way we work and interact with each other, which is human driven; tech has long been seen as the support systems that enable us to do our job. In reality, what we need is a seamless interaction between the two; technology that's allied to an effective people culture. In the simplest sense, technology keeps us connected to each other so we can share, collaborate, and crucially, feel that we're a part of something.
"Without question technology does and will continue to play a huge part in designing a workplace culture. As with all technology adoption, designing the workplace culture you hope to create is a blend of shouting out loud and clear what you stand for, followed up by ongoing supporting evidence. The resulting workplace culture is where people, process and technology converge."
Matt Smith, Chief Revenue Officer at The IN Group
The pandemic created an extremely challenging hiring market that remains to this day. According to the Office for National Statistics, the UK employment rate remains below pre-pandemic levels three years on. With the right talent in short supply, it's little wonder Gartner reported that over 60% of HR leaders said their number one priority in 2022 was building critical skills and competencies in their people. This means that knowing what your people want to achieve is central to them staying rather than looking elsewhere to grow and develop.
Multifaceted coaching
There are many ways for an individual to develop. Some of them will be experiential and some will involve formal learning in a classroom setting, but one of the most powerful is coaching.
Coaching isn't about teaching your people what you think they should know: it's about making an effort to understand their objectives, identifying what they need to work on, and having thought-provoking conversations that give them the confidence to create their own solution. "You are essentially their thinking partner," said Sarah House-Barklie, Chief People Officer for The IN Group. "You might find yourself stepping into a number of roles – mentor, counsellor, advisor, tutor. Your combination of professional expertise, personal style and approach to facilitate thinking and learning are what's most important to get the right outcome. The key thing is that you're neutral – you just ask the right questions. It's about helping them achieve their goal their way."
At the same time, however, there will be a limit to the number of roles a leader should play. "Know your parameters," she said. "If they come to you with a personal problem, it's okay to admit that you don't know the answer. But you need to know who to pass them on to for the information they need, whether that's your HR team or in our case, our People and Culture team. Remember it's about helping someone progress, however you need to do that."
When candidate-short, go long
It's all about thinking long term. By mapping the market, you can see where talent is coming from and target them effectively. Similarly, pipelining across seniorities helps you identify talented people and track them through their careers. Employers are increasingly engaging young talent by forming relationships with local schools, colleges, and universities, running apprenticeship schemes and hosting career days. This is a win-win: talented potential employees will be grateful that you've invested in them and feel engaged with you from the off.
Connection drives workplace culture
Openness forces action
A Fishbowl by Glassdoor survey identified DEI as one of the top five HR priorities for the last year, selected by 35% of respondents. The clamour for diversity, equity, and inclusion (DEI) has reached a crescendo in the last three years. Organisations are facing rising pressure from employees, job seekers, and business partners to make – and publicise – their progress on DEI issues.
That said, workforce statistics, corporate goals, and vision statements are all very well, but they'll only take you so far. People both inside and outside the company want to see that you're getting better all the time. They want to see practical change in the workplace. You need to show that you care about issues that matter to people and are willing to face and work on your imperfections – which positions you as a credible employer and business partner.
Positive equity
Diversity is just the start. You can have as diverse a workforce as you like, but if people don't feel included, with an equal chance of progressing, you'll inevitably lose them. "You can't achieve true and authentic diversity if your culture, policies and processes are not inclusive and, most importantly, equitable," said Olivia Dodd, Associate Director of Client Success at The IN Group. "Diversity isn't just visual, but many organisations want to prioritise equality and forget that not everyone began at the same starting point with the same barriers to entry. By recognising and holding your business accountable for equity, you will organically attract a diverse workforce and reap the benefits of better retention."
Research from Gartner reveals that underrepresented employees at mid to senior level experience slower rates of promotion. Organisations are tackling this by using objective data to evaluate their decision-making when hiring or promoting, rather than putting too much credence on the value of 'gut feeling.' Working with HR to identify gaps in your talent pools allows you to set up localised teams to address them. Lastly, setting DEI targets for your leaders ensures their advancement depends on the inclusivity of their leadership, making your approach effective from the top down.
Familiarity breeds contentment
Knowing your people
With the Great Resignation in full swing and workers quitting in record numbers, making your people feel valued is more important than ever. It goes without saying that keeping up with market pay and letting people know they're valued will go a long way. However, it's only an intrinsic understanding of who your people are as human beings that builds loyalty and, as Nick Baxter, CEO of The IN Group explained, helps you get the best out of them: "We know from talking to our people regularly that being empowered, having a platform to share ideas and contribute to the wider business strategy, building positive relationships with those around them, career development plans and objectives, and having fun, are most important to them in their working environment. Understanding our people better has helped us to understand our culture better, which allows us to create and continually cultivate an environment that will help them thrive."
Incentives that are relevant
We all need some kind of work-life balance. Even before the pandemic, people were looking to fit work around their lifestyle, and not the other way round. Now we want more still, so companies are rethinking incentives and looking for ways they can tie benefits to employees' individual lifestyles and ways of working. Simply listing an extensive suite of benefits that look good on your 'work for us' page doesn't do much anymore. If these aren't directly relevant to your people or the people you're trying to attract, there's little point in having them. This is why 'inclusive benefits' come into their own.
A shared journey
Life never stands still, either for an organisation or for an individual. It's critical to make the time to understand where your people are in any given moment and to keep up to date with their changing needs. This means continually evolving your benefits – whether introducing new ones or rethinking those in place. Doing this shows your people that you care and are listening to them.
It sounds simple, but it's also important to remind your people what's available to them. Too many people don't know! Shout out about your benefits on your social platforms and get everyone involved to create maximum engagement. Hold an annual benefits fair to give them the chance to meet your benefits partners and keep up to date with any changes. More than anything else, this makes them feel involved and part of the journey.
Flexible is permanent (for the majority)
It's official: it works
All those long-time advocates of remote working are right now saying, "I told you so." A 2021 survey from the Harvard Business School revealed that professionals excelled while working from home, both inside and outside of work. 81% either didn't want to go back to the office or preferred a hybrid schedule. 27% wanted to work remotely full time. Over 60% wanted to work two to three days a week from home – which has become a reality for many workers – and almost 20% wanted to go back to the office full time.
There was a time when remote working was something of a secret weapon forward-thinking companies kept up their sleeve. It began in start-ups and tech companies, who focused on lowering overheads, saving time and giving engineers peace and quiet to get on with their work. This is how platforms such as Monday.com and Slack came to be.
As Nick Baxter explained, flexible working isn't something that should be introduced on a whim because everyone else is doing it, and most organisations should resist the temptation to revert to type. "With the help of the right technology, organisations need to understand people can be equally (or sometimes more) productive when at home," he said. "This should never replace the need to spend physical time with your colleagues in the workplace but balance is key. Like many organisations, we had a very traditional operating model before the pandemic but COVID forced us to change (thankfully) and we haven't looked back since. We've had to adjust our learning approach and support the majority of our people in different ways but we've adapted and everyone has embraced the changes."
The key to successful flexible working? For Nick Baxter, it's trust. "I think it's important to approach flexible working in the right way," he continued. "Every industry requires a different approach but whatever your policy, it's got to be based on trust. We haven't mandated a minimum number of days in the office or certain working practices, because we trust our people to do the right thing and they also see the benefits – learning, social, cultural – of spending time around their colleagues."
Now, flexible working has become so commonplace that failing to offer it looks pretty archaic. But that doesn't mean employers can get away with lip service. We're seeing companies formalising hybrid working by writing it into their employee contracts, meaning that if people do decide to work on a beach for a few months, it's contractually acceptable to do so. Being able to work from anywhere should mean just that – but we also know there's a cultural piece that has to be solid before it works without a sacrifice somewhere along the way.
Winning the metaphysical battle
Competing with the biggest global organisations is incredibly challenging, which is why smaller companies must play to their strengths to stand out in their market. Some ways of doing this are simple, such as conducting pulse surveys and organising focus groups to understand what your people expect of you. By speaking to your network to see how you're perceived in the market, you get the truth and a chance to up your game.
When you understand what's good about working for you, what your employees value about your company, and how you're catering to their specific needs, that's when you have the foundation of an effective employer value proposition (EVP).
Culture in a nutshell
The transactional relationship between employer and employee, where you turn up, work your hours and get paid, has gone. An organisation plays a bigger and more varied role in many of its people's lives than ever before, and its people are more important than ever in defining and projecting its identity. Whether it's focusing more on DEI, investing in training and development, proactively building communities across the organisation, focusing on employee engagement, or creating a positive, nurturing environment, employers who understand the importance of culture succeed in finding and keeping the talent they need.