Back to Blogs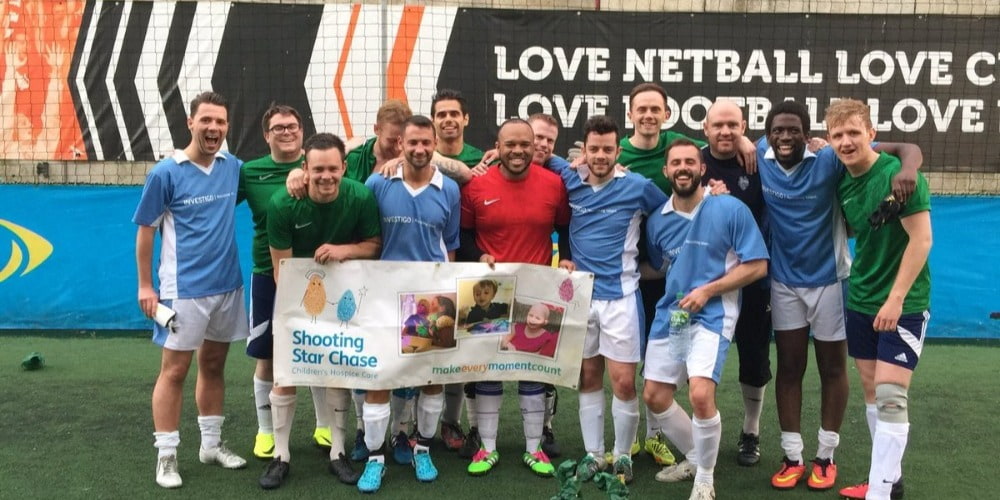 Investigo Charity 5-A-Side Football Tournament - June 24th 2016
With the nation's second most important football tournament less than two weeks away competition across the recruitment industry is ramping up. Who will be triumphant in the 5-a-side football battle of the consultancies?
After the success of our debut tournament last year Investigo are delighted to be hosting recruitment teams from across London and the South East again in 2016.
This year our chosen charity is Shooting Star Chase. A leading children's hospice charity for babies, children and young people with life limiting conditions and their families. Thank you to all those teams who have made the £600 entry fee donation, all the cash raised goes directly to the charity.
The draw has been made and the stage is set at the theatre of 5-a-side dreams, Lucozade Power League, Shoreditch on Friday 24th June 2014. Kick off for the first round will be at 6pm.
With last year's winners, Hudson, first out of the blind draw (a winning sign?) and heading up Group A alongside Eames, our charity Shooting Star Chase and Stott & May this group looks wide open for the taking.
Our own team managed to secure a place in this year's tournament's Group of Death, Group B. Investigo will be up against the formidable might of Goodman Masson, Keller Green and EMR/Five Ten Group.
Group C looks no easier with Morgan McKinley, SR Group and Michael Page in contention for the top two positions.
The last but by no means least Group D. Sees clashing between last year's runners up Robert Half, semi-finalists Indeed and BSM.
We have the opportunity for 2 more teams to join this year's tournament, on a first come first served basis. If you would like to take part and have a team to enter please email scott.beckson@investigo.co.uk