Back to Blogs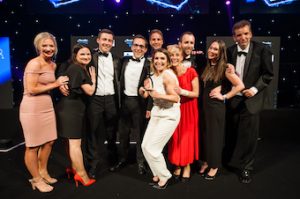 Investigo's Award Winning Journey
​It has been a storming week for Investigo – we raised £33k for our chosen charity Donate4Refugees through our annual charity quiz and a group of our employees cycling all the way to Amsterdam; hosted two industry-leading key speaker events; announced hitting our £100 million turnover target and to top it all off we won Recruitment Agency of the Year (50 – 249 employees) at the most prestigious recruitment industry awards - The Recruiter Awards.
I have been asked by our employees what the entrants were judged on. The judging aimed to recognise organisations who add outstanding value to their business partnerships and relationships. We were measured against four key criteria: Quality of Service; Innovation; Profitability and Financial Stability. I must say, of all the entries I have written in my time (and sure my co-writer Gemma felt the same), it was the one I have enjoyed writing the most.
We had an unbelievable amount of material to write about:
Our record-breaking figures from last financial year

All the fantastic work we have done around Diversity and Inclusion

That we go above and beyond with our commitment to our chosen charity

We host industry-leading events

The level of commitment we give to building our client and candidate relationships

Investigo LIFE (our new employer brand)

Investment in the internal infrastructure of the business
The list goes on. The final and most important point though, to why we ultimately won: because of the calibre of the people who work here.
I wrote this exact same award entry the previous year, just a month into my beginning at Investigo. The magnitude of what the business has achieved over the course of the last 18 months has been phenomenal. I was truly proud to write our entry for Investigo and to be part of a business that has achieved so much.
We had finished our financial year (June 2016) on a record-breaking high of £89.9million with a 170 headcount and we are now in a position to announce that we have already reached our target to be a £100 million turnover business, which we set as our mission 5 years ago.
Investigo's journey has been a fantastic one. For a business that has grown so consistently since its inception in 2003 from just two people, with such a solid reputation for its culture and employee satisfaction in the market (read our Glassdoor reviews) and following our most successful year to date, meant this recognition was truly deserved – recognition for the people who work at Investigo and everything that has been achieved.