Back to Blogs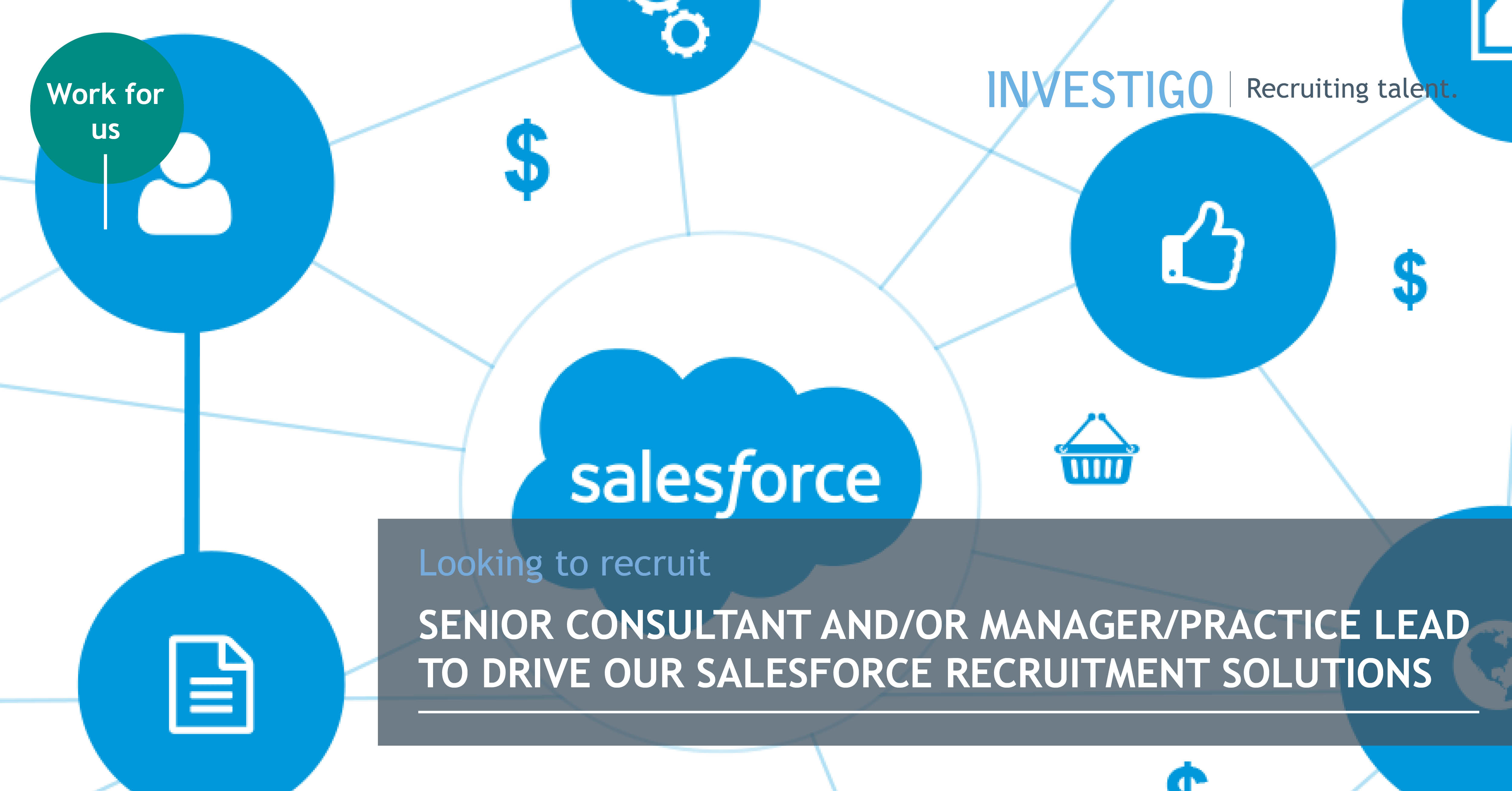 Opportunity to build out an offering across Salesforce in both the UK and Internationally
The Opportunity.
Due to extensive client demand, Investigo is looking to further expand its technology enabled transformation practice. We are looking to bring onboard a Senior Consultant and/or Manager/Practice Lead to drive our Salesforce recruitment solutions. This is an unique opportunity to build out an offering across Salesforce in both the UK and Internationally for Investigo.
As an entrepreneurial business Investigo is always eager to explore growth markets. Having recently placed multiple Salesforce Programme Directors across our client base, this is the opportune time to join Investigo and forge lasting client relationships in this space. As a Salesforce recruitment specialist you will be partnering these Programme Directors in building out their teams to staff their programmes of work. Whilst we already have a good network of Salesforce professionals, we want to drive forward a dedicated Salesforce practice to replicate the success our SAP team has achieved in a short space of time.
This role will give you the opportunity to lead and develop our Salesforce recruitment practice. You will enjoy the full support of the Investigo business, providing immediate access to develop a warm client base of over 900 clients with whom we have already transacted as well as leveraging introductions from our practice leaders and relationship managers directly into decision makers. You will also have full flexibility to scale up your team with the relevant experience to meet demand as the practice grows. We see this role developing quickly into a manager/ Associate Director level role where the successful candidate will be enrolled into our market leading long term incentive plan. We have a strong entrepreneurial spirit and a proven blueprint for success in creating and building teams at Investigo, we intend to replicate this for Salesforce.
The Team
Joining our SAP Transformation practice, who have been at the leading edge of our technology growth, you will be joining a highly reputable team within the market who are already forecasting revenue in excess of £11 million for 2019. Since launching the team in 2014 we have placed 600+ SAP Transformation specialists with over 100 clients in 25 different countries. Having successfully added Workday and Microsoft Dynamics transformation practices to complement our SAP business unit our next enterprise will be in response to our client demands for Salesforce specialists across both technical and business change.
Our overall ERP, CRM & HR Technology Transformation practice is made up of some very talented individuals, including senior specialists joining us from leading competitors and ex big four consultants as part of the team. As a team we have leveraged the already strong relationships that Investigo has developed, transacting with over 900 clients in the last 12 months. We regularly host CxO round table events such as https://www.linkedin.com/feed/update/urn:li:activity:6530007909659742208. We take a consultative approach with our clients as we know we will be working with most of them as candidates at some point or another.
Why Join Investigo?
I had several reasons for choosing Investigo for the next step in my career. Key for me was what the company had achieved in a short space of time and the forward thinking ambition of the management board. I am pleased to say that as a business Investigo has exceeded my expectations across development, support, learning and growth, both professional and personal and foresee this continuing into the future. The financial rewards have been fantastic but most of all I have appreciated the opportunity to learn new skills and work with some extremely talented people. Investigo is a business that is always moving forward, eager to explore new opportunities, generating and investigating new ideas and constantly developing their strategy to adapt to market conditions. I am genuinely proud to work for this business and I am very excited about the next part of this journey.
Terry Dawson | terry.dawson@investigo.co.uk