Back to Blogs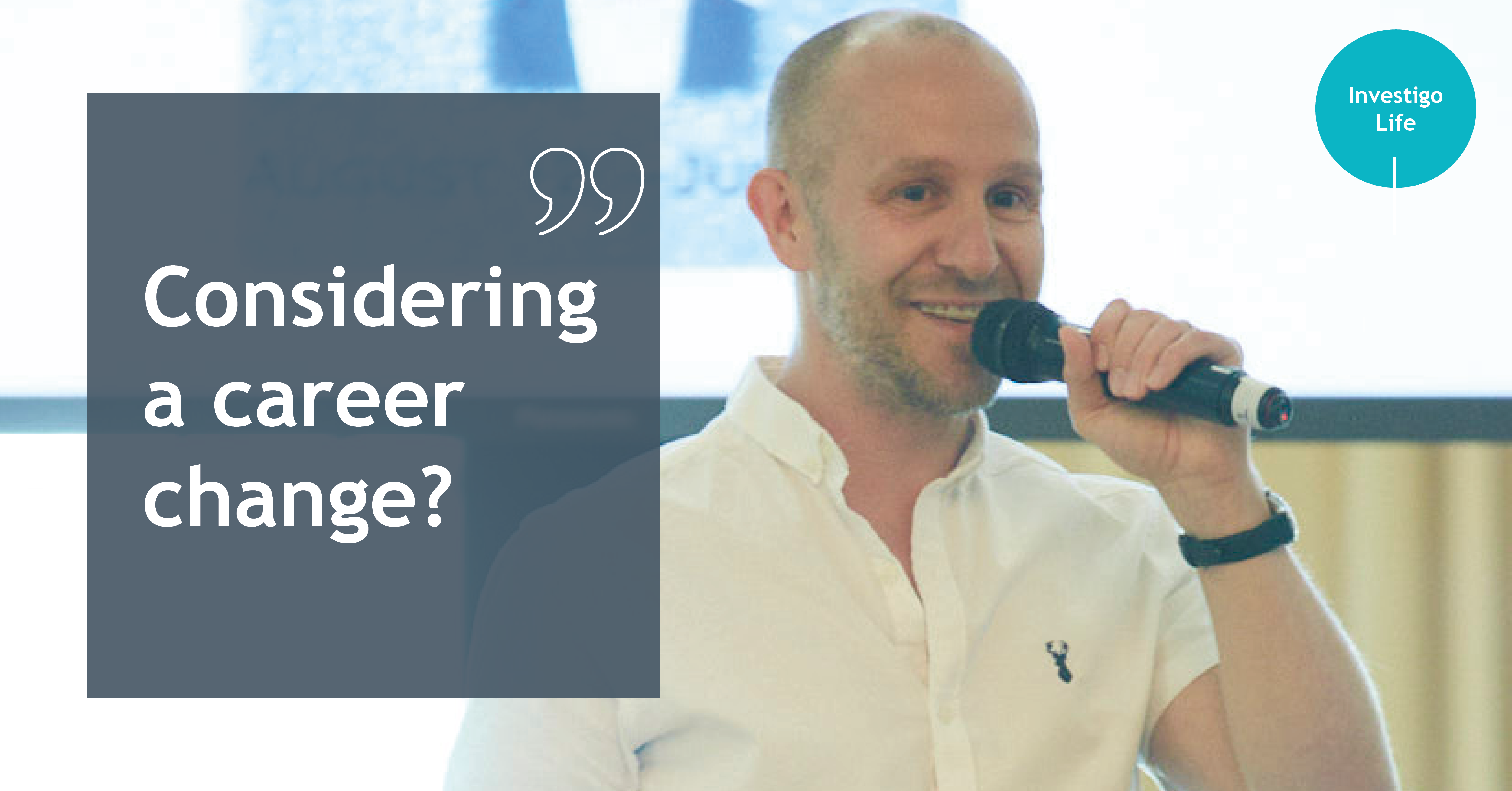 Considering a career change?
​Have you ever found yourself merrily moseying along your career path only to realise one day that you may have, in fact, taken a wrong turn? Fear not, you can change your career. Take Investigo Senior Director Stuart Bonner's word for it as he did exactly that.
I started my career in accountancy having found myself stood at a crossroads; one road leading to university, the other joining Halliburton as a trainee accountant. I chose accountancy having previously completed work experience at my neighbour's firm; that and the draw of earning a salary while qualifying on the job.
Naturally, I assumed my career path had been set – finance, banking, law or insurance. But, as is often the case, life throws up its curve balls and its opportunities.
I didn't really know about the world of recruitment until I started looking for a new job myself after achieving my AAT and CIMA qualifications. I realised once I'd completed the accountancy exams, I wasn't enjoying the work.
When I spoke to recruitment agencies as a candidate, I spoke about what I truly wanted to do: "fulfil a commercially focused role, interact with lots of different businesses and people, and (crucially) not be chained to a desk". And that's when one consultant – who incidentally had also come from the world of finance – suggested I go into recruitment.
Twenty years later, I still love it.
When I first started in recruitment, all those years ago(!), things were very different to how they are now.
Mobile phones didn't exist – I'm revealing my age here – which meant you would work until 8pm most nights as late evening was the only time you could reach people at home. We faxed CVs – yes, fax – and sent speculative CVs in the post. We drew the line at carrier pigeon and pony express.
I'm not too proud to admit that I spent the first 3 months of my new career in recruitment arriving at work each morning with butterflies in my stomach, anxious about what the day ahead would bring. I was completely green – in experience and in colour – and frequently faced with new challenges; from first candidate and client meetings to having to business develop a client or brief a candidate for interview with my boss listening in.
But this is exactly what I wanted – to be pushed and to be in a job that meant I was constantly stepping outside my comfort zone and being challenged. A role where every day is different, and where you are never fully sure what will happen next. The highs and lows – the thrill of making a placement, the satisfaction of helping someone find a new job, and the low when a candidate turns down an offer at the 11th hour, or the frustration of having "left another voicemail message" while developing a business relationship – they all make it worthwhile.
A career in recruitment is one of the most satisfying you will ever have and the effort you put in 100% dictates the rewards and satisfaction you will receive. Fundamentally, you need to be a people person. You need to have the confidence to pick up the phone to a complete stranger, build rapport in a 10-minute call, and take them out to lunch and hold a conversation.
Your success is all down to you.
Recruitment gets under your skin and in your blood; you never truly switch off, but not because you can't, but because you don't want too. You're hooked! If you're lucky enough to work for an agency like Investigo, the sky really is the limit with a career in recruitment. Investigo shares the same ambition as its people for their career and success, and supports you wholeheartedly to achieve this. And this is exactly what Investigo has done for me.
Every employee is valued as they are an investment to the future of the company – in turn, Investigo invests in you with at-desk training, a dedicated L&D team, and lunch and learn sessions, plus frequent networking, industry and social events, all of which are learning opportunities.
For a career in recruitment, you need to be tenacious, resilient, self-motivated and a team player. With these traits and a supportive company, you'll be a success. And once recruitment is part of your DNA, you'll never look back.