Back to Blogs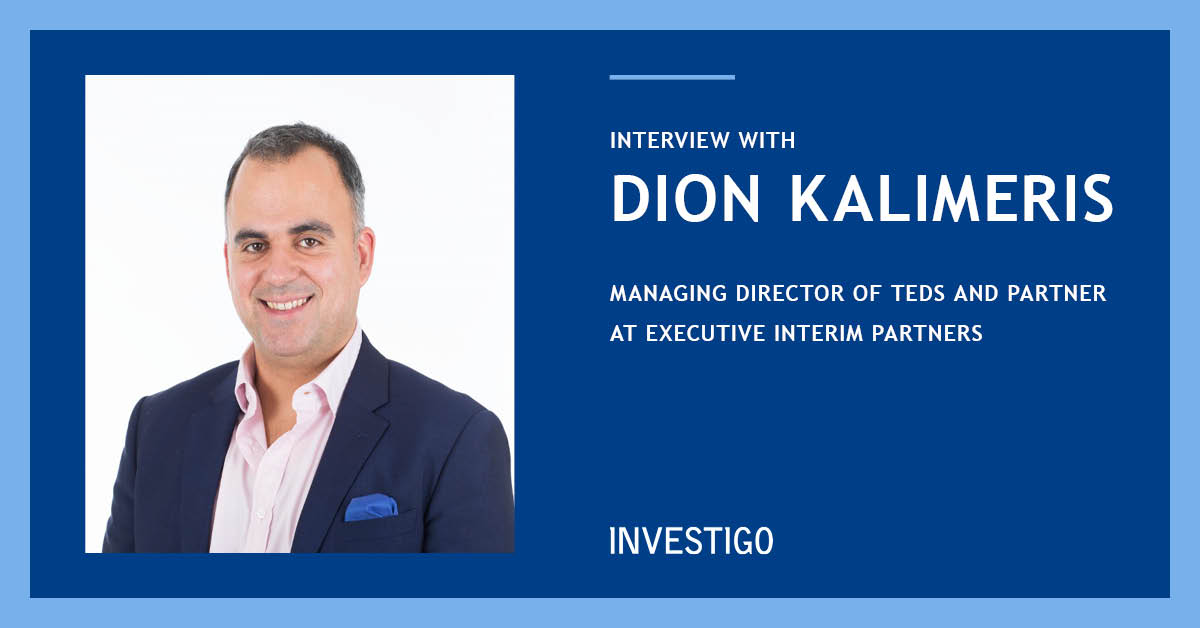 Restarting an ERP transformation: an interview with Dion Kalimeris
​Dion Kalimeris is a highly experienced interim senior advisor, CIO/CDO and programme director for FTSE 100 companies and private equity funds. With businesses looking to pick up their programmes and projects from where they left off pre-COVID, Dion spoke to Richard Brook, Associate Director of Investigo's ERP, HR and CRM Transformation Practice, about how to use the lessons of the last few months to restart an ERP transformation.
How long have you been working on largescale ERP transformations, and what is your background?
I have 23 years of transformation experience in multiple industries and sectors. I am a business-focused technology leader, with diverse roles such as Chief Information and Transformation Officer, Programme Director, Managing Director and Partner. The last 13 years, I have focused on interim management, leading global finance, corporate services, and delivery tools, including SAP strategy, operations, and projects which support the business goals. I have a passion and major interest in turning around organisations that are customer focused on delivering products and services, but need advice on how to deliver and execute at the executive level. I help to answer questions such as, how steep will your company's digitalisation path be, and where does the transformation journey need to take us? Is the company billing enough, and how does it reflect our cost base? How are we managing the supply chain? How can you maintain the business to be profitable and efficient with healthy cash flow and liquidity? Do we have real-time data that drives our company decisions and direction? What are we selling to our customers? Has the demand changed? Are we equipped with the right technology stack firstly to survive, secondly to be able to compete and thirdly to make sure we are relevant to our customers?
Also, one of my favourite platforms over the last 20 years is SAP and all its related technologies. ERP implementation has always been at the top of my agenda and most (if not all) the FTSE 100/250 companies have SAP infrastructure at different versions of legacy complexity and various levels of process and system customisation. What I love about an ERP system is that it is the heart and the drumbeat of the business. I also think SAP offer some fantastic capabilities with the S/4HANA platform.
Since 2015, I have been fascinated by the S/4HANA capabilities and the future direction of the platform. As it happens, back in 2014/2015 while I was with a global professional services technology organisation, we were one of the first companies to implement it and adopt as the S/4HANA capability demonstrated to be the way forward.
Ever since I've focused on offering advice, expertise and execution leadership on transformation programmes, SAP has been at the heart of it. It seems to be a perfect fit for global organisations that want to digitalise their finance divisions and automate areas such as financial planning, treasury, risk, controls, and commercial operations and real-time analytics and reporting. I have concentrated mainly on global FTSE 250 and FTSE 100 companies, because they are generally huge businesses with complex processes, multi-regional and universal in their nature, looking for certainty in outcomes and results.
What are the main challenges you see companies facing when either restarting an ERP transformation or beginning a new one?
All our ERP transformation efforts focused on specific criteria and assumptions before COVID-19. We now live in a "COVID-19 world" disrupting entire economies let alone businesses.
The principle challenges are fundamentally the same and will not go away. Productivity and efficiency issues will not disappear, and cash flow and liquidity are top of the agenda. As far as I am concerned, the exam questions are:
•How do you adapt to unexpected changes to your financial forecasts?
•How do you adapt to rapidly evolving business models?
•How do you align strategic, financial, and operational plans?
•How do you analyse data across the business to develop cost containment strategies?
Before COVID, we had a day-to-day BAU business – operations, new customer demand, understanding operational issues, managing costs, driving transformation. We had multiple projects, with SAP migration to S/4HANA underpinning the digital core transformation of every business from sales through the supply chain to make disparate business units more unified in their process, people skills, systems. Everything moved at a specific pace, with ERP implementation usually lasting several years and financial year ends were predictable, certainly since the last recession in 2008.
As COVID landed on our doorstep, it took many businesses by surprise as it fundamentally changed consumer behaviour and exposed companies' financial vulnerabilities that were brushed under the carpet, causing severe disruption. Within weeks companies were looking at how relevant their business models were, whether their products and services were suitable, what a consumer wanted within a COVID-19 world and how to pivot as a company to tackle the challenge head-on. As an example, suddenly companies went from being in central offices with some home working and remote access capability, to sending all their staff home and becoming remote/home workers who really worked from everywhere. Naturally, it raised many concerns with questions such as: are your SAP system and financial processes fit for purpose to operate efficiently with people working remotely? Could you access SAP remotely and is your supply chain disrupted? Could you manufacture and deliver your products in the same way as before? Do you understand the data coming in? Has the data flow to your reports and analytics been interrupted?
Most of my transformation expertise is to enable companies through SAP S/4 to be highly flexible, fully mobile with the information at their fingertips, and highly automated – instead of extracting everything in spreadsheets, through many customised systems, with lots of manual intervention bringing a constant risk of disruption and continued issues because the data is simply not accurate or up to date. The reality is that all business models and customers face disruption for the foreseeable future (I bet that it will be the norm for the next couple of years).
As we are now four months into the lockdown period, what do you think are the main things we have learnt so far and what could we have done better?
I believe there are several key lessons that we have learned so far. The top of my list is:
1.Focusing on rapid revenue recovery
2.Pivoting to online work systems quickly
3.Rebuilding your operations
4.Rethinking the organisation
5.Accelerating digital adoption to enable reimagination
6.Ensuring you are engaged in the right consumer conversations
7.Planning for a new kind of future
8.Looking after your home teams, both permanent and interim.
One of the key lessons learned is that the cloud and remote working tech works. It is proven. I believe we also have an additional responsibility when working from home. People working from home brings different risks – access to systems, how many SAP systems can go outside the broader corporate network, access to SAP reporting. What is the risk of a data breach from home laptops or desktop environments? How do you manage the risk from a data link, system outage or leakage of critical data? How do you know your liquidity and cash flow is stable if it takes three months to get SAP as you have a legacy system? SAP gives you this information. That is why you need transformation.
How do you manage the pipeline to the consumer, manage your supply chain to get your products delivered? Where there is a regional lockdown, how do you know your factory is producing the goods? When there are local outages or lockdowns because of COVID, you as a business can continue to operate. It is how you continually manage your adjustment, which is why you need an SAP system providing you with real-time information and analytics capability. SAP S/4HANA aims to give you a 360 view of real-time reporting and analytics straight to your digital boardroom. If your systems are old, dated and customised, most likely you are unsure about what good looks like, and the reality is you are behind the curve with the consequences that you cannot predict your cashflow or liquidity. You are living in a world of delayed information provided by many FTEs, with a lot of manual intervention and many assumptions.
From my experience in engaging with C-level and executive board members, they typically felt they had plenty of time on their hands to decide what they wanted to change, how deep the customisation should be and whether to go to the cloud or stay inhouse. But ultimately what matters is having systems in place that give real-time info. Your SAP system needs to be integrated into your organisation and to absorb the data that your board wants to drive forward the company.
With the rapidly changing world we are in, companies are now likely to have less time available to assess if SAP transformation should go ahead, then once a decision is taken to implement, to then spend another five to six years designing, building and deploying their SAP capability. Often with these elongated timelines and the rapidly changing technology, by the time companies go live they are often out of date with the latest releases and the system is not necessarily optimised for what the business needs here and now.
Modern SAP transformations need to happen in 18-24 month periods. You must be more agile, be extremely focused on doing things quickly, in a more outcome-focused way. You need alignment on the strategic choices – what problems to resolve, how to prepare and mobilise, and set up projects focusing on regular outcomes and milestones that deliver value to the organisation within months! The very reason why I follow a lot of SAP Activate methodology and best practice (model company, architecture, design, implementation, execution) is that I have found that it works and by sticking with the right tools, gives you the platform you need.
As a senior SAP leader, what is your action plan to drive through this challenging period to ensure a smooth transition to a new version of normal?
The action plan is simple:
•Build a rock-solid business case of finance, risk, and compliance processes based on a single source of the truth.
•Focus on intelligent SAP technology innovations to drive finance transformation and business improvement and build a roadmap.
•Be flexible and create an accelerated innovation adoption path.
•Deliver a modern user experience offered either in the cloud or on-premise.
A CEO, COO and CFO's emphasis will be on understanding the new COVID-19 world's pain points. Understand the business and technological state of the company, what is your "digital North Star", then focus our SAP S/4HANA-led digital transformation. A CFO needs to understand if the business services, products, and customers are still relevant and behave in the same way. The norm is for financial planning to be a two to three and five-year roadmap. Is this assumption again valid? Where is the income from and where do we need to invest? Is cashflow management reporting in real-time? My view is, that's where we need an SAP platform that goes down to the fundamentals of the business – GL, intercompany, WIP, DOA, COA, controls, billing, reporting. Understand how effective the business process is and how we can digitalise the entire finance chain to become real-time and fully mobile.
Most organisations are now fully operational in what appears to be an "evolved" way of working. I expect until we have a vaccine, very few people will be comfortable to spend a long time in a confined space with many other people. Any new programmes must rely on companies following a consulting way of working which is fully mobile for their staff. This type of change is massive for any company, and the programme governance must be active and focusing on delegation and trust while using data to ensure results. At a global level, we need governance that allows us to manage significant change without being present all the time. We will not be able to travel to Asia or America in mass or with the same frequency as before. There are also cultural and safety concerns to identify and resolve. We need less discussion on the philosophical "art of the possible", but more laser focus on how we want the SAP system to be delivered and how we get on with it. SAP digitalisation is a jigsaw puzzle that is there for the taking. Simply reach out and claim it, you do not need to reinvent the wheel.
I have a simple goal, to help businesses to change and utilise the next 24-36 months as the opportunity to come out on the other side digitally strong with full control of their finances, able to provide services and products to the "evolved" consumer.
Now that there is some light at the end of the tunnel, the critical question is, how do you ramp up and restart an SAP transformation?
Notwithstanding the possibility of additional external disruption from COVID-19, I have identified several actions helping organisations to overcome, or even avoid, a stalling of their SAP digital momentum:
•Build strategic clarity and commitment across the organisation.
•Improve the transformation's economic model.
•Lock in resources and execution capabilities.
•Speed up and delegate decision making.
•Step up execution excellence.
•Cultivate partnerships.
•Flatten the structure.
•Unleash nimble, empowered teams.
•Make hybrid work.
Start the conversation from why you need digital transformation to succeed and go back to the original business case of why you have mobilised the programme in the first place. Do a proper review to understand the current business needs and your people readiness.
Creating workstreams and mobilising people is the most natural part. Having an integrated programme plan based on one fast, agile team is also helpful (and what most people know about agile). Having many scaled agile teams of them across an enterprise, and enabling them with the right structures, processes, and culture makes it possible for the entire system to move faster.
You want your business case assessment to provide you with a clean slate of business outcomes, enabling that change to happen. Consider providing 90-day results that you can demonstrate to the executive board, chairman and senior stakeholders to show what you are doing is current and relevant and helps the business.
The number one question from an SAP digital transformation perspective is the following: are you consciously delivering the business case (do you sell more? Who to? What is changing? How efficient are you?) that you can demonstrate results in an agile fashion? How can your implementation become outcome-based? Is it still relevant, providing immediate value to the business? That requires individual agility, connecting everything from business case to requirements, from process to operations and the systems platform to outcomes. It must be flexible, and the communications considered because COVID fluctuates and disrupts our day-to-day life considerably.
In this landscape, the business usually searches for stable and reliable leadership, guiding them through the transformation journey, able to manage SI partners, the business and technology teams. SAP has also done tremendous work to create an implementation roadmap demonstrating to senior leaders that there is a methodical and repeatable way of allowing a complex transformation to happen in a controlled manner. Lastly, stakeholder management is the number one priority. The building of confidence and trust matures in time, and I advise companies to focus on preparing the organisation for the change to happen and let the programme team (consultants, partners, tech and business) to bring that together. To close, we all know the business needs for continuous change are constant, ongoing and won't change regardless of COVID-19. So, it is all about adjustment, pivoting to be able to understand how the consumers are changing, how their needs evolve and how you need to reposition your organisation to offer your services and products. WOW, that sounds just like any SAP ERP transformation I've ever done!
If you'd like any more advice about restarting an ERP transformation or you want to strengthen your team to help instigate the change your business needs to thrive, please contact us.
Richard joined Investigo in 2018 as Associate Director of our ERP, HR and CRM practice, building on a previous eight years of experience as a specialist SAP recruiter. Richard's main focus is placing high calibre SAP consultants into interim assignments across all areas of SAP with a particular focus on senior appointments in the UK and Europe. To learn more about the current recruitment market, or to speak to him about your hiring needs, please get in touch at richard.brook@investigo.co.uk / 07711 373352 – he would welcome an initial confidential chat.
​