Back to Blogs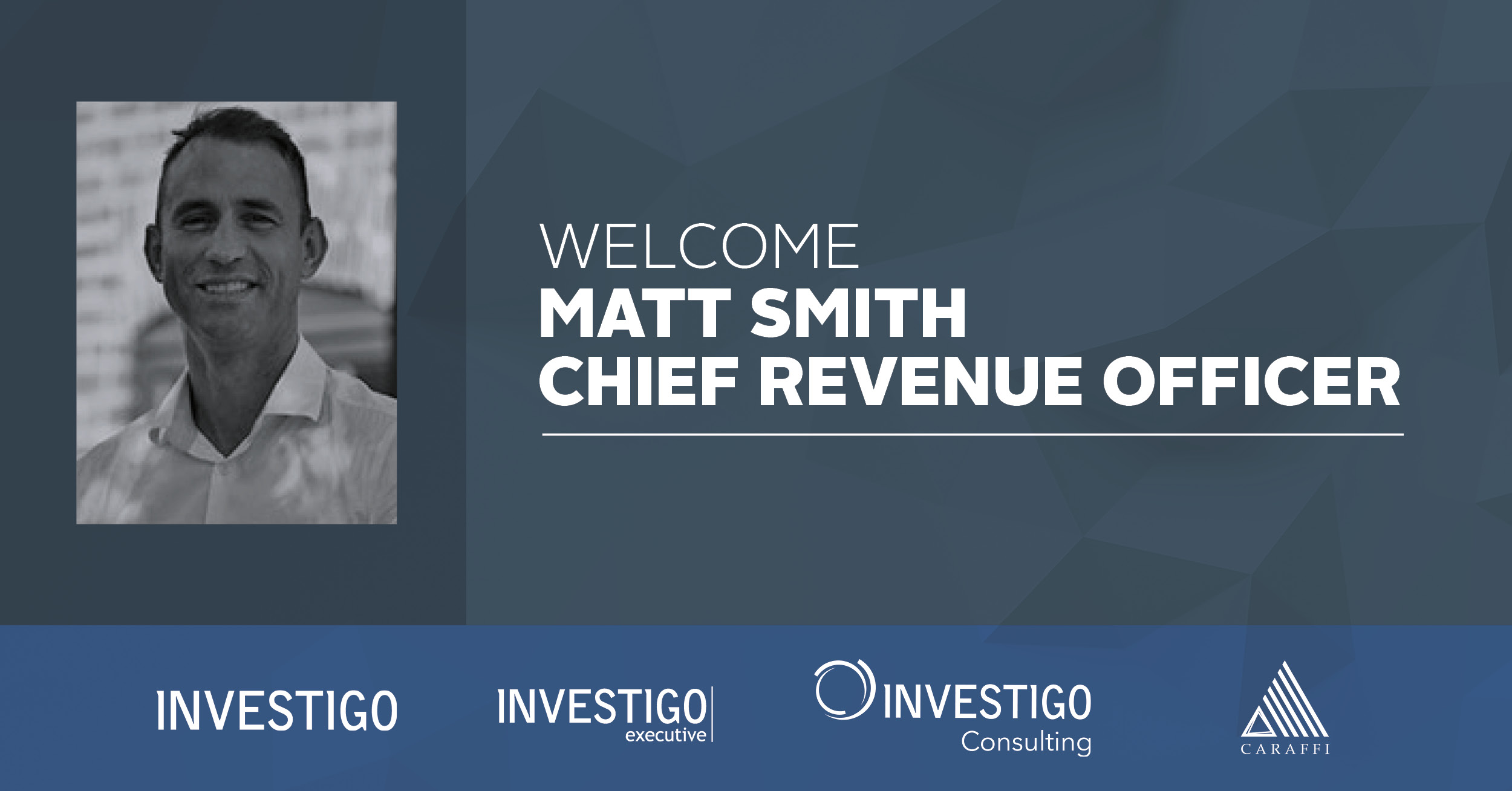 Investigo further invests in growth strategy by appointing Matt Smith as Chief Revenue Officer
​Investigo has strengthened its group board with the addition of Matt Smith as Chief Revenue Officer. In what is a newly created role, Smith will be responsible for growing revenue streams across Investigo's award winning recruitment business, as well as its three other established brands: Investigo Executive, Investigo Consulting, and Caraffi.
Joining the business from Harvey Nash, where he played an integral part in growing the recruiter's brand over more than two decades, Smith will work with Investigo's senior leadership team to deliver the group's ambitious business strategy. As well as maximising returns from the group's existing client relationships, he will also look to drive its expansion into new markets.
Investigo CEO Nick Baxter said: "Having spent 23 years at Harvey Nash, progressing from Consultant to Managing Director/COO of their UK business, Matt has achieved some incredible results and built some fantastic relationships. We at Investigo have been through a significant transformation of our own over the last three years, expanding the group to include an established, rapidly-growing consulting business, an exec search practice and Caraffi – a leading talent management consultancy we acquired in 2020. Working at group level alongside our management team, Matt will help our customers understand our new business model and ultimately position Investigo as the talent partner of choice for the majority of our clients."
Smith's appointment is the latest impressive addition to the Investigo team and underlines its ambitious growth plans. Baxter added: "Our investment in headcount since the summer of 2020 has been significant and Matt's appointment continues to emphasise our desire to grow and transform the business. We are lucky to have secured such a talented client-facing leader, and we're very excited to welcome him on board and get started."
Looking forward to taking the next exciting step in a varied career, Smith said: "I'm delighted to be joining Investigo at this unbelievably exciting time. The quality and enthusiasm of the Investigo team members I've spoken with has been exceptional, and with their support I'm confident we can build upon the impressive successes Investigo have enjoyed to date. What makes Investigo so attractive to work for as an employee, and with as a client, is our unique portfolio of services that enable clients to design bespoke solutions tailored to their individual requirements. The welcome I've received has been wonderful and I'm really looking forward to being part of the company's ambitious growth!"
About Investigo
Investigo Group is a collection of specialised brands offering talent solutions across the private and public sector. This covers professional recruitment, executive search, consulting, advisory and talent management. We combine our individual expertise to find remarkable solutions, to deliver game-changing service and to build incredible careers and cultures.
For more information, please contact:
Lisa Holberton, Head of Marketing, Investigo