Back to Blogs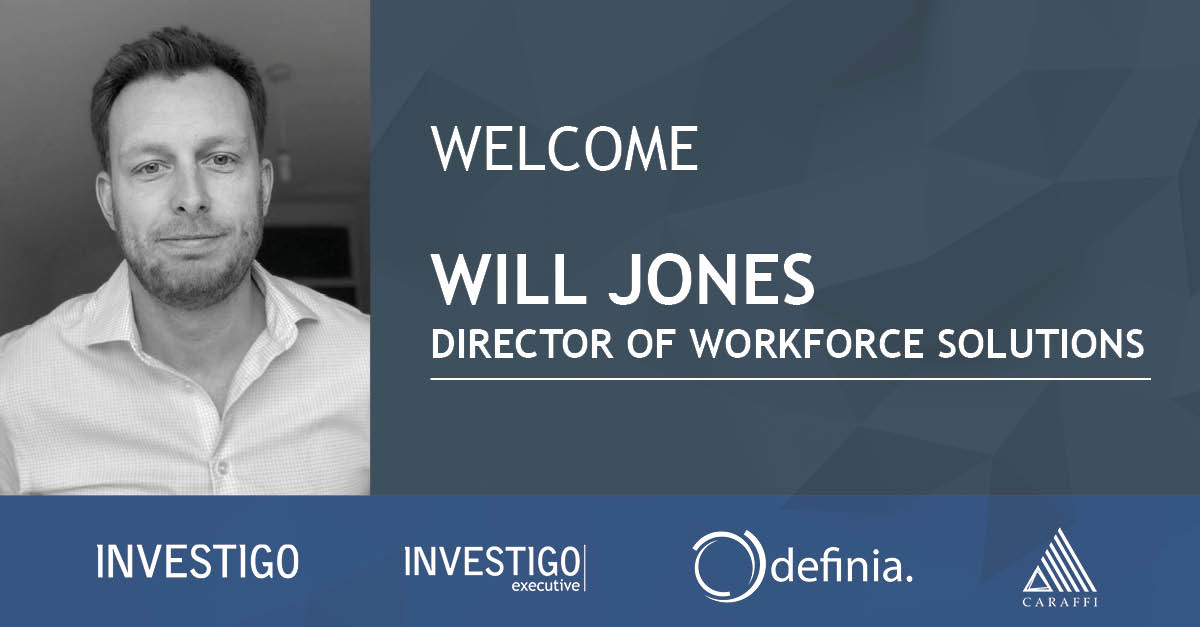 Will Jones joins Investigo as Director of Workforce Solutions
​Investigo has appointed Will Jones as Director of Workforce Solutions, a new practice focused on helping the group's customers, clients and partners solve their people and talent challenges.
Taking up the role after 15-and-a-half years at Harvey Nash Group, Jones will look to identify and develop new opportunities for Investigo Group by working closely with its service lines, Investigo Recruiting, Investigo Executive, Caraffi and Definia. Workforce Solutions will aim to increase client retention with the group's business partners, develop repeat business opportunities and deliver great customer experience.
Nick Baxter, CEO, said: "Will has spent the last 15 years leading teams and designing, shaping, and delivering a variety of solutions including MSP, RPO and statement of work to a range of clients, covering SME and enterprise level businesses. He has joined Investigo to help us on our journey of creating tangible value by productising our talent and technology solutions. This marks a significant evolution and ambition for the Investigo Group and beautifully complements our Investigo Recruitment, Investigo Executive, Definia and Caraffi brands. We're really looking forward to working with our clients to help them design people solutions that enhance their ambition."
Jones's appointment, and the creation of the group's Workforce Solutions division, form the latest step on Investigo's journey to becoming an end-to-end talent solutions provider. Baxter added: "We want to be the brand that companies turn to when they have talent challenges. With opportunity for engagement across the Investigo Group, our clients will have access to the full range of talent resources, no matter what their requirements."
As part of his role, Jones will work directly with the Bids and Contracts team to ensure the success of PSL tender awards and new contract wins. He will be responsible for internal account implementation and building relationships with key representatives from the group's clients.
Jones said: "I'm very excited to be joining Investigo at a time when the group is growing and looking at new ways of helping its customers. By setting up the Workforce Solutions division, we aim to cultivate an environment that fosters true cross-selling and to strengthen our already powerful relationships, with the ultimate aim of converting our clients into partners."
The appointment is the latest ambitious hire for Investigo Group as it looks to strengthen existing relationships and identify new potential revenue streams, following the arrival of Matt Smith, Chief Revenue Officer, in March.
About Investigo
Investigo Group is a collection of specialised brands offering talent solutions across the private and public sector. This covers professional recruitment, executive search, consulting, advisory and talent management. We combine our individual expertise to find remarkable solutions, to deliver game-changing service and to build incredible careers and cultures.
For more information, please contact:
Lisa Holberton | Head of Marketing, Investigo | lisa.holberton@investigo.co.uk