It is estimated that up to a third of the workforce over the age of 45 will have a disability. It is estimated that up to a third of the workforce over the age of 45 will have a disability. This may range from dyslexia through to hearing impairments, diabetes through to learning disabilities – clearly the range and impact of disability in the workplace is vast. The spending power of those with disabilities is estimated to be more than £200 billion annually. The 'Purple Pound' represents a significant commercial opportunity to organisations and yet organisations are failing to represent disabled people in the workplace.
We are currently a Disability Committed Employer and are working towards becoming a Disability Confident Employer. We have a project team dedicated to this and aim to ensure that every interviewee coming into the business receive a reasonable adjustment communication beforehand. With regards to changing perceptions and training across the business we held a disability confident training session for the D&I group, Talent Acquisition, Learning & Development, Business Development and Marketing teams. The volunteering programme with our charity partner is also helping to improve our employee's understanding of disability.
The disability equality charity, Scope, reports that there are approximately six million people in the UK who are dyslexic and two million with a sight impairment. It also states that a disabled individual is twice as likely to be unemployed as a non-disabled person. This combined with other reports stating that only 20% of recruitment websites were deemed as accessible, we were determined to make sure that our website was accessible to all and in 2018 launched a fully accessible version. This brings a plethora of functionality to assist in creating a positive user experience of the platform for everyone. With text to speech functionality, the ability to change font colour, size & type, as well as dyslexia software, this revolutionary platform offers an equal experience to all.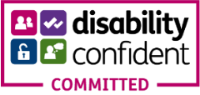 We have published an insight magazine on becoming disability confident to actively encourage our clients to broaden their understanding and approach to disability in the workplace. We actively seek to encourage our clients to start the dialogue. Disability needs to be a topic of conversation in the workplace, allowing employees to feel comfortable in talking about it. Running 'Disability Confidence' sessions can help employees and managers to become more knowledgeable and confident.
​