The government's Disability Confident accreditation provides employers with the knowledge, skills, and confidence they need to attract, recruit, retain, and develop disabled people in the workplace. It offers key tools, guidance, and advice to help companies recruit from the widest possible pool of talent, and retain valuable skills and experience.
​
We're currently a Disability Confident Employer and are working towards becoming a Disability Confident Leader. To help us get there, we've set up a dedicated project team and are aiming to ensure every interviewee receives a reasonable adjustment communication before coming to meet us.
​Awareness through partnership
Disability's not just what you see. The range and impact of disability in the workplace is vast, ranging from dyslexia to hearing impairments, diabetes to learning disabilities. We're working hard to be inclusive to everyone we partner with, both internally and externally.
In 2019, we partnered with the charity Panathlon, which provides sports competition and training days for young people with disabilities and special educational needs. This included a volunteering programme which was not only incredibly fulfilling for our people, but also helped to increase our understanding of disability.
In 2021, we worked with Goss Consultancy, a leading provider of equality and diversity training, to deliver disability confident training for people across the business. Increasing awareness and keeping us up to date with disability etiquette, language, and best practice, these sessions helped people of all levels become more knowledgeable and confident in a very sensitive aspect of workplace life.
Ensuring accessibility
We launched a fully accessible version of our website in 2018, thanks to accessibility software provider, Recite Me. With text to speech functionality, adaptable font colour, size and type, and dyslexia software, this revolutionary platform offers a positive user experience for everyone.
Awareness through insight
We've published an insight magazine on becoming disability confident to actively encourage our clients to broaden their understanding and approach to disability in the workplace. By starting an internal dialogue, we can all ensure that our people feel comfortable talking about this issue, and we can then continue to adapt the way we work to be inclusive to everyone.
​Read our Disability Confident Insight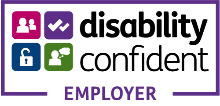 To find out more about the work we're doing to be an accessible organisation to everyone we work with, please speak to our People and Culture team.
​