Giving back has always been an incredibly important part of who we are. Each year our goal is to find a charity where we can really make a difference not only by fundraising, but through additional activities and initiatives to increase awareness. This year we are supporting LIFEbeat, a charity on a mission to improve the mental health, wellbeing and positive potential of young people through building creative communities and a sense of belonging. They give young people the skills and inspiration to overcome the challenges they face, navigate the divisions in society and lead confident, healthy and purposeful lives.
​
It's important for everyone in the business to be fully engaged with our charity initiative and every year, we give each employee the opportunity to nominate a charity for consideration. We then shortlist the nominations and put them to an anonymous vote across the business. We build our charity initiative around the winning charity.
​The BIG Investigo Give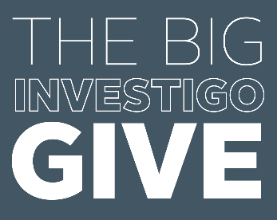 We believe that a charity strategy should not be based on one-off events. It should be cultural. To take our charity strategy to the next level, we devised the campaign 'The BIG Investigo Give,' where we encourage all our employees to take a proactive approach to their own social responsibility.
Our objectives include:
Raising £100,000 a year as a business for charity – which we achieved for the first time in 2021

Each team organising a fundraising event and raising £250 per head

Everyone taking part in a day's volunteering with our charity partner
Alongside raising funds to help facilitate the charity's work, we also seek engagement not only from our workforce, but from our client and candidate communities, to raise awareness of their crucial work and encourage engagement.
​
​